GT&T gives Blind Society free DSL for CSEC programme
The Guyana Telephone and Telegraph Co (GT&T) has made its DSL internet facility available free of cost to the Guyana Society of the Blind (GSB) at its St Phillip's Green, Werk-en-Rust location.
According to a release from the company, the society had approached GT&T for assistance to undertake a programme that would allow it to offer its younger members the opportunity to write various subjects at the Caribbean Secondary Education Certificate (CSEC) examination level.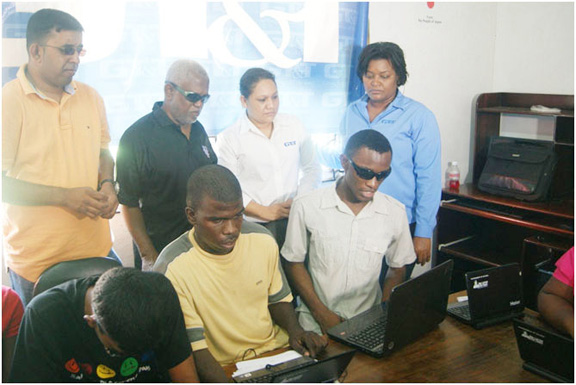 The NGO with support from the Ministry of Education has initiated the programme this year and will allow at least 14 blind, visually impaired and physically challenged students to write exams next year.
The CSEC syllabus is being taught electronically which requires the internet connectivity.  The online programme will also facilitate other students in outlying regions to study as well.
Chairman of the GSB, Cecil Morris thanked GT&T for this assistance and said that the programme would change the lives of members of the society since many would be able to be qualified and could acquire jobs to earn a monthly income.