Fernandes new head of squash association
Former vice-president of the Guyana Squash Association (GSA) David Fernandes was elected president of that association for the next calendar year following the GSA's Annual General Meeting (AGM) and election of office bearers last week.
Fernandes succeeds former president Andrew Arjoon who served two terms  at the helm of the GSA before passing the baton to Fernandes.
Ronald Burch-Smith, who served as GSA president for a few terms between 2006 and 2010, was elected to serve as the association's vice-president while another attorney at law, Vidushi Persaud resumes her post as secretary.
Former national player and three-time Southern Caribbean singles champion Garfield Wiltshire was re-elected treasurer of the association. Wiltshire, who is an accountant by profession, has been serving the GSA as the treasurer for over six years.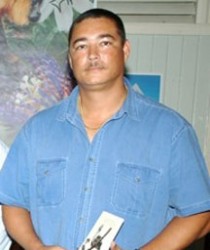 Robin Low, one of the newcomers to the GSA executive, was appointed to the post of assistant secretary/treasurer which Burch-Smith held during the last GSA administration. Tiffany Solomon was elected as chairperson of the competitions committee while Raymond Islam was appointed to serve in the capacity as chairperson of the clubs committee.
Juanita Fernandes was elected as chairperson of the junior affairs committee which was Solomon's post last year. Juanita Fernandes, Islam and Low are the only members of the new executive that did not serve on the GSA executive body last year.
The 45-year old Fernandes, who still occasionally plays the sport, said that he has several projects that he wishes to implement to further develop the sport.
Fernandes said that one of the goals that he wants to push for is the staging of more tournaments by the association.
According to Fernandes, more tournaments will test the players frequently and help eliminate competition fear and nervousness. In years past, the local squash competition season began in February and concluded after the national championships in June/July. Fernandes said that it is his intention to make squash an all-year-round sport which he feels could not only help develop current players but make the game more attractive to others.
Fernandes also stated that he plans to continue in the association's initiative to broaden the player base in Guyana with the schools programme at the National Racquet Centre on Woolford Avenue. The programme is currently spearheaded by GSA's national coach Carl Ince and according to Fernandes, there will also be many more tournaments among those juniors that are currently engaged in that programme.
The season will begin with the Bounty Farm Mash Handicap tournament and will conclude with a Christmas junior tournament in December according to Fernandes. The Bounty Farm Handicap tournament which will begin next Tuesday and conclude on March 3, is one of the GSA's largest events. Fernandes is also a frequent campaigner in that tournament and finished second to Victoria Arjoon in 2009.