Flooding returns to Essequibo Coast, Pomeroon
Heavy rainfall over the past two days has led to yet another flood on the Essequibo Coast and in the Pomeroon River.
The floodwaters which had receded earlier last week rose again covering farmlands in the Pomeroon River and destroying crops which had survived the previous flood. Pomeroon farmers are now clueless as they contemplate their losses, since all their produce has been destroyed.
One farmer from Lower Pomeroon River told Stabroek News that he will cease farming until the weather improves. "What will I do now? I lost all
of my crops. Everything gone so all I have to do now is wait until the rain stop falling and then I will start planting again," he lamented.
Mr Garraway, another farmer from the Lower Pomeroon said that the water on his farm has risen to a foot and a half.  "Five acres of plantain destroy for me and the water also kill pear trees and pine. All the farms in the Friendship area flood out too. For last week, I didn't get to sell plantains and it seems that is going to happen again this week," Garraway bemoaned.
In Charity, the Squatting area and parts of the Extension Scheme are currently flooded.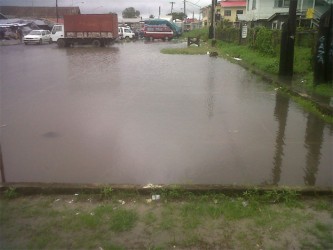 "The main reason why this scheme flood is because it is not drained properly," a resident of the Charity Extension Scheme said. "When anybody go in to see the Overseer at the Charity NDC office, he always saying that the scheme ain't hand over to the NDC. So I wondering if the water come so high that we gat to use boat, if they gon just keep saying that the scheme ain't hand over. You mean they can't do nothing about the scheme? That is total nonsense!"
When contacted by this publication, Constable of the Charity/Urasara NDC, Mr Green said that the pump that is stationed at Charity worked from 7 am to 11 am yesterday at which time the pump attendant went to lunch.
When Stabroek News visited the pump station sometime later, the guard on duty said the attendant was at lunch and would be back at 1.30 pm. The flood water in Charity has risen to approximately 6 inches high and residents are hoping that the pump can be functional at all times.