Five couples shortlisted for 'race to the altar'
Five couples who were shortlisted for Wedding Expo 2014 "The race to the altar" competition were treated to a day of fun and adventure at the Arrowpoint Nature Resort on Saturday, following their introduction to the public on Valentine's Day.
Denzil Dublin & Felicity Smith, Pride Bacchus & Kamini Devina Narine, Nigel Canterbury & Fareeda Ghany, Ryan Fletchman & Maria Prince, Romel McLean & Nazeema Kalil were selected out of ten couples vying for an all-expense paid wedding, sponsored by the Roraima Airways and several other private sector companies which is to be held on February 29.
Upon their arrival at Arrowpoint, the couples were treated to breakfast before being told of the planned activities for the day, which included hiking, running and kayaking.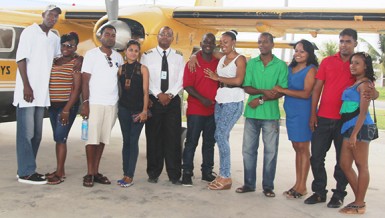 They were also given a brief history of the resort, shared a little about themselves and their partners and they also talked about social issues. These activities were done as a test of each couple's ability to communicate.
After having lunch, the couples played a game of volleyball, followed by the last activity of the day, biking, which this newspaper was told the couples enjoyed enormously.
The day was completed with a quick snack and short relaxation after Chairman of Roraima Group of Companies, Captain Gerry Gouveia sat down with the couples, and talked with them about relationships and families before they boarded their flights and headed back to Georgetown.
On Valentine's evening, the couples were treated to a romantic dinner at Duke Lodge, Kingston and on Sunday, they were treated to an aerial tour from Ogle International Airport, to Marriott Hotel/Resort before flying to Providence and then back to the airport.
As part of the screening process to select a winning couple, visits to the couples' homes are planned for later this week, aimed at speaking with the couples in a relaxed environment where they are comfortable.
The winning couple in the 'Race to the Altar' competition will be selected and presented to the public on February 27.
The public can vote for their favourite couples by sending text messages, calling: 6034674/6238136 or via Facebook by liking the pictures of the couples on the Wedding Expo page.