Police launch youth group at Bath Settlement
Police in 'B' Division launched a youth group at Bath Settlement, West Coast Berbice on Friday with the hope of reducing violence and social problems.
Officer in charge of the Fort Wellington Station, Joshua Harvey-John told the youths that the police would provide sessions on topics such as drug abuse and all forms of violence to ensure a safer community.
He told them too that they would not only be trained to play different sports like cricket but would also learn to use the steel-pan.
Harvey-John, who is also an assistant superintendent,said too that the police intend to form other youth groups around West Berbice and that "from time to time you would be competing against each other."
He welcomed them on board and urged them to encourage their friends to do the same.
The event was chaired by Sergeant Cynthia Kelly who said that they "could have gone to another area but we want the people of Bath to be a part of it."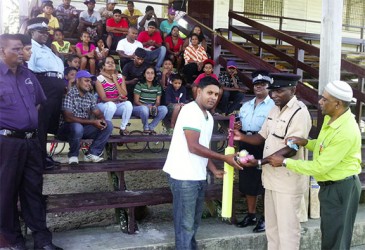 Also present was Corporal Avella David, the officer-in-charge of Weldaad Station district who re-emphasised that they are "interested in helping the youths because they are the future of tomorrow.
She said too that they were there to "mould your minds" and let them know the effects of all forms of abuse. The sessions would also include interactions with the police so there can be a "good public relationship."
The members who would be decked out in uniforms would join with the scouts group and meet every Saturday.
Two persons from the community – Nazeema Sadiq and Naipaul Molaha – were chosen as leaders of the group.
Sadiq, a senior teacher at the Cotton Tree Primary was happy to be involved with the youths and promised to devote her time and energy to them.
Molaha, a pastor said the initiative was a "very good move" and he too was happy to be a part of it. He pledged to work with the youths so they can develop a better Bath Settlement.
He noted: "We just cannot depend on the people from parliament" to come and make the village better "but I think we are the people that the almighty has placed here with enough common sense and knowledge and enough health and strength, energy and education to pool our resources together to make the community better."
He encouraged everyone to "keep supporting whatever the group is aimed at because I am sure there were great plans in mind before the initiative was even birthed."
At the end of the launching, the officers presented the group with cricket gear.