Man jailed for assaulting partner in police station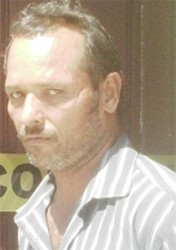 A horse-cart driver was sentenced to seven days in jail yesterday after he admitted to assaulting the mother of his child in a police station.
Terry Faria, 44, of Lot 113 George and Leopold streets, was also fined $50,000 with an alternative of five months in jail for verbally abusing and threatening the woman as well as misbehaving at the police station.
Faria accepted that he during the period July 27 to 28, at George and Leopold streets, assaulted Melissa Eastman, used threatening language and behaviour on her, as well as used abusive language twice on her. Faria further accepted that he behaved disorderly at the Brickdam Police Station on July 28.
It is the police's case that Faria, who has a two-month-old daughter with Eastman and also shares an apartment with the virtual complainant, went to the apartment and demanded to have their daughter at 11pm.
According to Police Prosecutor Jomo Nichols, Eastman refused and Faria became annoyed and threatened her. She later reported the threat and it was at the station, Nichols told the court, that Faria held on to Eastman's clothes, cuffed her to her mouth and threatened to kill her. The defendant also behaved disorderly at the police station.
For the assault, Magistrate Geeta Chandan-Edmond sentenced Faria to seven days in jail.
In relation to the charges of threatening behaviour, threatening language, disorderly behaviour and two counts of threatening language, she ordered that he pay a $10,000 fine or spend one month in jail for each count if he fails to pay the fines.