Ganja trafficker gets 60 months jail, $4M fine
Marlon King, one of the men nabbed during the transfer of over eight kilos of marijuana last year, will be spending the next 60 months in jail after being found guilty of narcotics possession.
King, known as 'Red Man,' of Lot 19 Roxanne Burnham Gardens, was also fined in excess of $4M by Magistrate Judy Latchman at the George-town Magistrates' Courts, where his trial concluded.
King appeared to be in disbelief when the magistrate announced her ruling.
King was held as a result of a Customs Anti-Narcotic Unit (CANU) stakeout. It was alleged that on October 19, at Aubrey Barker Road, he had 8.206 kilos of cannabis for the purpose of trafficking.
CANU Prosecutor Oswald Massiah had told the court at the man's arraignment that, acting on information, CANU officers went to Aubrey Barker Road within the vicinity of the La Familia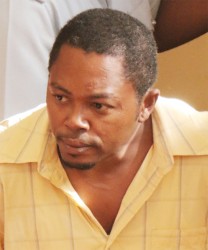 Hotel. Massiah said that during the stakeout, a car pulled up with King inside. King, he said, came out of the car with a suitcase and proceeded to another parked car, which was close by. He said that as King approached the car, the lid of the trunk popped open and he placed the suitcase inside of the car trunk.
CANU officers subsequently searched the car and the suitcase, which led to the discovery of 18 packs of leaves, seeds and stems, later confirmed to be cannabis.
King was represented by Senior Counsel Bernard De Santos, who, in mitigation, noted that his client had no previous convictions. But Massiah asked the court to impose the maximum penalty on King in light of the seriousness and prevalence of the offence.
In handing down the sentence, Magistrate Latchman said that while the court had considered the mitigating circumstances, these were outweighed by the aggravating circumstances, that is, the prevalence of the offence.
The magistrate highlighted also the quantum of the drug that was trafficked, the organised manner in which it was carried out, the need for the protection of the public and the need to deter potential offenders.
When asked, Prosecutor Massiah informed the court that the marijuana carried a street value of $4,032,000.
The magistrate then informed King that he would be sentenced to 60 months in prison and ordered him to pay a fine equivalent to the street value of marijuana.