Introduction
Sir Shridath Surendranath Ramphal, lawyer, foreign policy expert, international civil servant and writer, known as 'Sonny' to his family and friends, was born on October 3, 1928 in New Amsterdam, Berbice, to Grace and James Ramphal. Perhaps it was an auspicious date in terms of the future direction of his career, since on that same day twenty-nine years earlier the Paris Arbitral Tribunal had handed down its award in the case of the boundary between Guyana and Venezuela. The controversy subsequently raised by Caracas about the award, was to occupy much of his attention in his early days in the Ministry of External Affairs.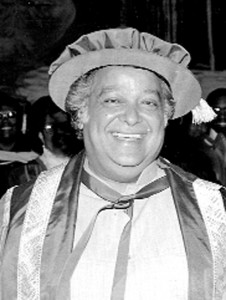 Like so many of Guyana's successful scholars, lawyers and top civil servants, Sir Shridath was the son of a schoolmaster. James I Ramphal was a remarkable man in his own right, being an educationist of stature who managed to persuade the colonial authorities to take a more progressive approach to the matter of educating Indian girls. He also worked in the civil service, being appointed the first local Commissioner of Labour. It was in the private schools run by Ramphal senior that Sir Shridath obtained his early education, later moving on to Queen's College.
Thereafter in 1947, he took the well-trodden path to London and a career in law, being called to the bar at Gray's Inn in 1951. A master's degree in law from King's College followed in 1952, and at a later stage he spent a year in Harvard Law School as a Guggenheim Fellow.
Apart from the part-time work he undertook in the legal section of the Colonial Office to support himself while he studied for his master's, his long career began unobtrusively enough as a Crown Counsel in the Attorney-General's Office in 1953. In 1958, he was to join the West Indies Federation as a legal draughtsman, becoming Solicitor-General and then Assistant Attorney-General. He worked on the constitution for the federation, but before that political entity ever attained independence, it collapsed.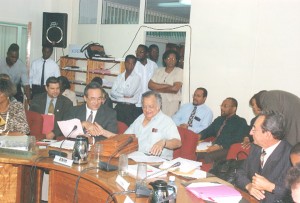 For a time Sir Shridath worked in private practice in Jamaica, but in 1965, he was coaxed back to Guyana by then Prime Minister Forbes Burnham to become Attorney-General in his government. Two years later his long association with foreign affairs began, when he became Minister of State in what was then the Ministry of External Affairs. He continued to hold both portfolios – although later in the upgraded form of Minister of Foreign Affairs (from 1972) and Minister of Justice (from 1973) − until he left to become Commonwealth Secretary-General in 1975.
The extraordinary range of his activities during this decade, as well as subsequently during his decade-and-a-half as Commonwealth Secretary General and thereafter will not be set forth here, because they are referred to in the tributes below. It might be observed, however, that it hardly seems possible within the span of fifty-five years or so for any one man to have had such an impact on the world in such a dizzying number of fields. And the world has recognized his efforts and contribution with a plethora of honorary degrees and awards, including two knighthoods from the Queen. Sir Shridath has also been Chancellor of three universities – University of Guyana, University of the West Indies and the University of Warwick – as well as been chairman of, or involved in, innumerable commissions and expert groups on everything from development to the environment to humanitarian issues.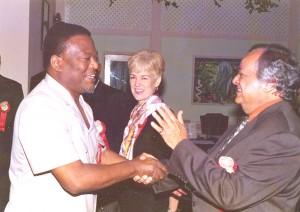 Less well known, perhaps, than his work as an international diplomat, is his output as a writer. In addition to innumerable monographs, he also has several books to his credit, which include among others, Our Country, The Planet: Forging A Partnership For Survival (1992); and Inseparable Humanity: An Anthology of Reflections of Shridath Ramphal (1988).
For all his service to the world, in terms of his contribution Sir Shridath has never deserted either the region or his homeland. Still a committed West Indian, he was Chairman of the West Indian Commission at the start of the 1990s; became the first Director-General of the Regional Negotiating Machinery in 1997; and currently has added his considerable voice to the criticism of the Economic Partnership Agreement between the Cariforum countries and the European Union. He led Guyana's legal team at the International Tribunal for the Law of the Sea which handed down a ruling on the maritime boundary between this country and Suriname last year, and his latest book launched two weeks ago, deals with this topic.
A Happy Eightieth Birthday, Sir Shridath!
Around the Web