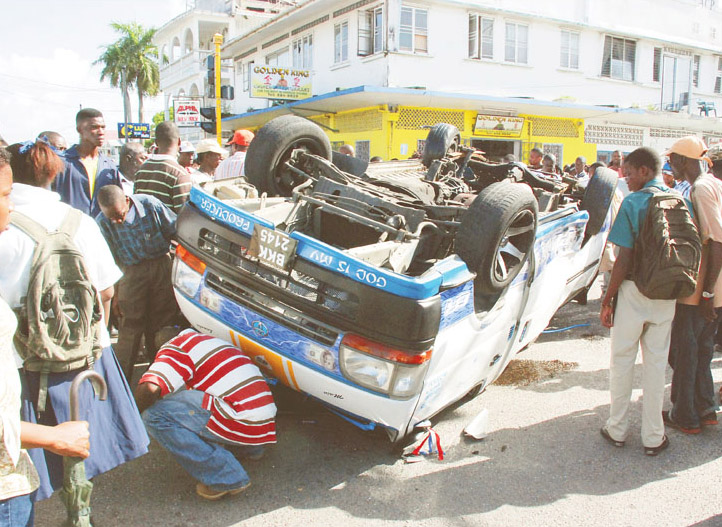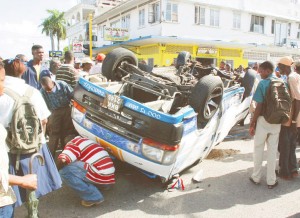 A route 45 minibus that breached its designated route and was speeding west on Middle Street slammed into a motorcar and rolled over four times, throwing some of its passengers through the windows and sending eyewitnesses scampering to safety.
Fifteen persons were injured as a result of the accident and up to press time a man who remained unidentified and a few others were listed as critical.
Those injured are John Applewaithe, Jennifer Collins, Linda David, Candacy David, Matthew Semple, Lisa Jagnandan, Darryl Shepherd, Ron Lovell, Errol Lawrence (the driver of the taxi), Trevor Marshall, Toshanna Barker, Winston Harris, Jeremy Kendall, Mark Hopkinson (minibus driver) and an unknown man of East Indian descent who remained unidentified up to press time last night.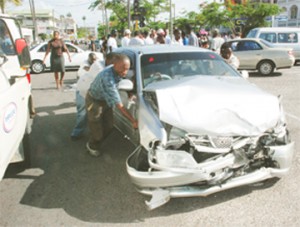 The minibus's conductor escaped without a scratch while the driver was stable yet critical and the driver of the motorcar who had minor injuries seemed more in a state of shock. The taxi driver was taking home school children.
Eyewitnesses yesterday told Stabroek News that they could not believe their eyes when they saw the bus rolling and many said that section of Middle Street was a race course for several Lamaha/Hospital minibuses, especially at that time of day.
Within minutes dozens of persons ran to the scene to assist and the injured were rushed to the hospital. Blood, broken glass and vehicle parts were scattered on the road and many stood around complaining about the way many minibus drivers continue to speed on the roadways.
The accident occurred just after 3 pm and according to eyewitnesses the minibus BKK 2145 named 'Purity' was spotted first in the vicinity of the Guyana Power and Light on Middle Street speeding and causing heads to turn since it seemed to be in a race with another brown bus alongside it. However when 'Purity' reached the Camp Street intersection its driver tried to slow down but slammed into taxi HB 5725.
The driver of the other bus, which waited for the traffic signal to change after realizing what had occurred, turned onto Camp Street and drove away.
One of the injured who did not want her name mentioned told Stabroek News at the hospital yesterday afternoon as she awaited treatment that she was a passenger in the minibus and it was "going at a little speed." The teen could not confirm whether the traffic light at the junction was working neither could she say what was its signal at the time. She was seated at the front of the bus along with another passenger and the driver, eyewitnesses said.
"I don't know what happen but then next thing I know is that I feel this impact and then by time I ketch myself I was about in the third seat of the bus and I feel the bus turning over," she said. She said she remembered being taken to the hospital and seeing several others there injured as well. She sustained injuries to her ribcage and minor cuts and bruises.
A GTI student who was also a passenger in the minibus said he felt the impact and was also thrown out of his seat. He said he could not explain exactly what occurred but said it felt as though the bus was either hit by or had struck another vehicle.
"I see the bus coming speeding because I had just crossed over Camp Street and I look back and I see this other car coming up Camp Street and going a little slow and I heard the man tooting his horn and the next thing I know I see the bus man like he try to pull rash brakes, but he slam into the car and then start spin. I thought that bus wouldn't stop how this thing going then I see like a woman fly out and end up at the front of the restaurant," a woman told Stabroek News.
The woman said she parked her motorcycle and grabbed her daughter, then ran across the street which seemed a safer place.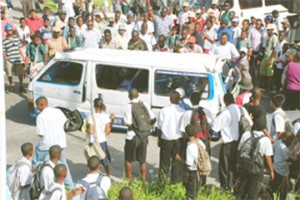 A Christ Church Secondary student who said he was just about to leave school to go home swore that he saw the vehicle topple about six times. The student said the bus was known for its recklessness and so he preferred to walk home every day. "They always speed along here and so we have to be careful but it seemed as though the driver tried to beat the light because it was changing soon but the car had the light in its favour … plus the car man didn't speeding," he said.
Eyewitnesses also said they saw the driver almost trying to hold on to the vehicle after the toppling sent him out of his seat and he ended up at the bottom of the vehicle which landed on its wheels after it had toppled.
The GPHC was a scene of chaos as many rushed to ensure that their loved ones were safe. Security personnel managed to control the crowd which began to subside as the hospital treated patients as fast as it could. Many were referred to its X-Ray department and a number of them remained there up to 5.30 pm yesterday.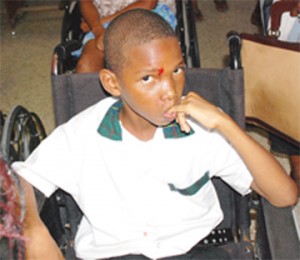 Injured
John Applewaithe – Freeman Street, East La Penitence
Jennifer Collins – Amelia's Ward, Linden
Linda David – North Ruimveldt
Candacy David – North Ruimveldt
Matthew Semple – Block E South Sophia
Lisa Jagnandan – South Sophia
Darryl Shepherd – Shirley Field Ridley Square
Ron Lovell – John Street, Campbellville
Errol Lawrence – North Ruimveldt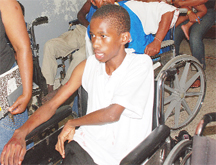 Trevor Marshall – East Ruimveldt
Toshanna Barker – North Ruimveldt
Winston Harris – Newtown, Kitty
Jeremy Kendall – Canal #1 WBD
Mark Hopkinson – North Ruimveldt
A man of East Indian descent remained unidentified up to press time last night.