Brother burnt in rescue bid

By Melissa Charles
A 32-year-old father of one perished when his Third Street, La Bonne Intention (LBI) home burnt to the ground early yesterday morning.
His brother in a heroic attempt to save him has been hospitalized after sustaining burns about his body.
The other three occupants of the house, two who were home at the time of the fire, escaped physically unscathed.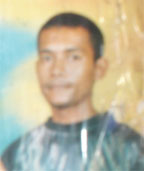 Dexter Giddings died in a fire of unknown origin that razed his family's home some minutes after he returned home after going out with friends.
His brother Mark Giddings, 28, is currently in a stable condition in the burn care unit of the Georgetown hospital.
The men's mother Violet Giddings and Dexter's daughter Diana both escaped unharmed from the inferno; their father Rudy Giddings was at  work at the time the fire started. He rushed home upon receiving a phone call, only to find everything he owned had gone up in flames – but more shattering – his son had perished in the fire.
Violet Giddings related to Stabroek News yesterday that shortly after 1 am, Dexter who slept in the bedroom that was downstairs, came home and called for her asking for his food. She said that it is a ritual of hers to leave his food downstairs in his room since she does not like going outside at those hours. She said that she sat up and listened to the sounds he was making and then peeped through a hole in the floor to see that he was alright. She heard him lock the door and reassured that he had retired to bed she did so herself. Violet Giddings said that she must have dozed off, for how long she is not sure; but was awakened by Mark's hollering "mammy wake up something happen to Dexter." She said that upon running downstairs they saw "thick, thick smoke," emanating from the room.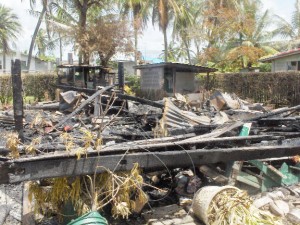 "Marky run upstairs for a towel and then go in fuh get he, but the smoke de so thick he ain't see him…he had to run back out when fire suddenly burst out," his mother recounted.
Breaking down into loud sobs Violet said "I stand there and watch meh son burn to death and couldn't do nothing." Her heart-rending cries of "ow God why you mek me see meh son dead," brought tears to the eyes of relatives and friends gathered to comfort the family. 
With a sad shake of the head Rudy recounted that he was at work when he received a call informing him of the fire. He took a taxi and raced home where fire trucks were already on the scene and the house was totally engulfed in flames. The man related as soon as he reached he began asking for the members of his family. "When they tell me Dexter in there, I coulda just drop down right there, like I couldn't believe it," he said. "We are a close family," Rudy said, adding that because of his working hours he does not see his sons much except for Mondays – his day off which he would spend at home mostly cooking in the back yard. He also stated that the family was to attend the memorial service for Compton Speirs; a relative killed in the Lindo Creek massacre, but now have their own tragedy to deal with. He suggested that the house went down in minutes because of the large amount of 'burnable' items it contained. He said that the type of furniture, stuffy chairs and the carpeting would have made good "fuel for the fire." Rudy lamented that it is going to be a hard feat for a man his age to start anew, made more difficult because his son would not be there to assist him this time around.
A cousin of the dead man said that someone came by and told him of the fire. By the time he reached the scene it was too late to save his cousin, since the flames were all over by then. "I see him up to yesterday, and now he gone," the man recounted. He added that he could not handle the horror of what had happened to his cousin and returned home to his family, only to return to the burning house. The man said that at this point gas bottles started to explode and one of them pitched out of the flames landing a good way from the house; luckily though no one was injured.
Officials from the fire service were to return to the house to ascertain what might have caused the fire but up to when this newspaper visited the family shortly after midday yesterday they had not returned to the scene.
The family is in the meantime residing at Rudy's parents' house at Sixth Street LBI.
Around the Web