Former Miss Jamzone, Christa Simmons, who was recently hand-picked as Miss Guyana World, will represent Guyana at the Face of the Universe Pageant in Ghana from October 6 to 19, according to the Miss Guyana World Organising Committee.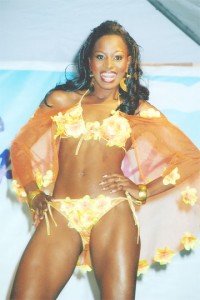 Following that competition Simmons will hop over to another African country, this time South Africa, for the Miss World Competition billed for Johannesburg on November 16.
According to a release from the committee, Face of the Universe Beauty Pageant seeks to identify a contestant with a universal face, height, body, elegance, poise, attitude, oratorical abilities to wear the ambassadorial crown. The competition was born in the wake of Ghana's 50th Independence Celebrations (Ghana's Golden Jubilee), to showcase the advancements that the country had recorded in various industries.
The release said that Simmons is scheduled to visit London on her way to Ghana where she will meet Miss World franchise holder Ken Chung.
At present, the beauty queen is undergoing lessons in Guyana's history and culture; public speaking; interview techniques; voice tone and projection, etiquette; and catwalk skills in the run-up for the Miss World competition.
During her one-month long stay in Johannesburg, where she would join delegates from over 100 countries, Simmons would take part in a number of scheduled activities and be photographed at many of Johannesburg's landmarks
Meanwhile, the release said, Miss Guyana World Candace Charles will leave for the Czech Republic next Friday to represent Guyana at the Miss Europe and World Junior pageant from September 20 to October 5, 2008.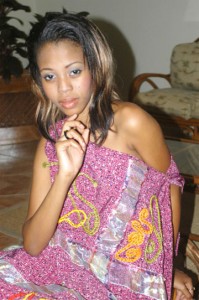 And Janella Lewis is also expected to represent Guyana at the Miss Caribbean World Beauty pageant in the British Virgin Islands from September 18 – 21.
KM Chung Promotions company is the official franchise holder of all the above pageants and in August of this year Chung appointed Ghalee Khan to manage and organise the Miss Guyana World Pageant. However, there was no pageant this year, rather Simmons was crowned at a function.
Comments

The legal team for former New Building Society (NBS) manager, Maurice Arjoon, who was wrongfully dismissed, have levied on the bank's assets in a bid to recoup the $59,033,000 pension owed to him by the financial institution.
An alleged inebriated farmer of 54 Strath Campbell Village, Mahaicony, ECD, died at about 3 pm  yesterday at Chance Village, Mahaicony, after a vehicle he was reportedly not given permission to drive, crashed into a utility pole.

MELBOURNE,  (Reuters) – Rafa Nadal's Australian Open quarter-final curse struck again on Tuesday, an injury forcing the top seed to retire in the fifth set against Croatia's Marin Cilic.

Several hundred more sugar workers are expected to be laid off from the Skeldon, Rose Hall, and East Demerara estates by next month and the Guyana Agricultural and General Workers Union (GAWU) yesterday urged that the decision be reviewed.

The commencement order establishing the Telecommunications Agency was signed last Friday, in anticipation of the liberalisation of the telecoms sector, Minister of Public Tele-communications Cathy Hughes announced yesterday.