Miller offering them rice in the interim
Rice farmers of West Berbice who had supplied paddy to a miller in October are worried that the miller was "packing up and leaving" and they had still not been paid in full.
Some of the farmers told this newspaper on Wednesday that they have received part of the payment from the miller, Dindial Joree who operates the mill at Golden Grove, West Berbice and they kept "running every day to get the rest."
According to the farmers, "Every time we come they tell we to come back next week or come back tomorrow. We have to spend the whole day here and we nah get we money."
Joree told Stabroek News that he was renting the mill and he learnt that it had been sold. He said he was given until this week to occupy the premises. He said the farmers learnt about that and "panicked" but he assured that they would be paid within a month's time.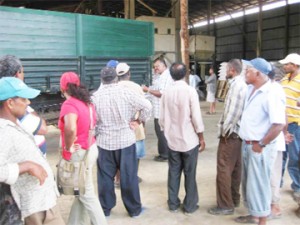 Some of the farmers said that the miller offered them to take paddy from his mill in exchange for the payment but he was giving it to them at a price of $5200 per bag. They said the shops are only paying $4700 per bag and they suffer losses of $500.
Some of the farmers have taken up the offer because they preferred to "get that rather than get nothing at all" while others said that the miller "should sell the rice and pay we and let he [miller] lose."
Joree explained that the farmers have been given the option of taking the rice so that they would get their money faster. He said he has to give them at that price because he had paid them $4200 and $3500 for their paddy which had to have a milling cost added.
With regards to not being able to pay the farmers as promised, Joree said that there is no overseas market for his rice and the local buyer he depends on could only take a limited amount.
He said that as soon as he collects money for the rice that is sold, he tries his best to pay the farmers, noting that when farmers go to the mill some of them would get paid while others would have to return.
Meanwhile a representative from the Rice Producers Association (RPA), Jewan Khaderu was at the mill recording the names of the farmers and the amount that the miller owes them; he would submit that to the RPA.
He told this newspaper that the farmers informed him that the miller was moving out and that they were afraid they would not receive their outstanding payments.
Around the Web