(Barbados Nation) A love-struck husband who stabbed his wife 21 times and then threw hot oil in her face after she taunted him with her infidelities is on remand pending sentencing by the No. 4 Supreme Court.
Guyanese Marvin Harmon, 35, formerly  of Apartment 9, Stadium Road, Bush Hall,  St Michael, admitted that he unlawfully killed his Guyanese wife Roseanna on October 13, 2007.
He had originally been charged with murdering her but denied that offence.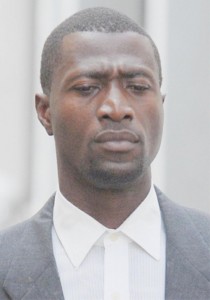 "I try all me best to bring back the marriage," Harmon told the No. 4 Supreme Court on Monday. "I did the best I could  in the situation but  I'm sorry it happened  this way. I was so in love with my wife." His attorney  Desmond Sands asked  for a pre-sentencing  report and the request  was granted by  Justice Kaye Goodridge, who postponed sentencing until February 27.
Director of Public Prosecutions (DPP) Charles Leacock, QC,  who appeared with  Senior Crown Counsel Roy Hurley, said the Crown accepted the plea to the lesser count of manslaughter because  of evidence which  "the prosecution could  not rebut".
"The deceased had 21 injuries of a sharp nature, one of which penetrated the heart and the lungs, and also her face was substantially damaged  by a hot liquid which we knew to be hot oil and it was based on that that he was charged with murder," Leacock explained.
"Based on the evidence which the prosecution cannot rebut, namely the statement which provides ample evidence of provocation in the circumstances, and the history of a third party transaction . . . also if conversations [did take] place they certainly constitute provocation  and the Crown is not  in a position to refute them because the incident took place between them," the DPP added.
"And in light of all of this, it must be said that there are no police reports on [Harmon] being involved in domestic violence," the DPP further told the court.
The DPP also read Harmon¹s statement, which took him three hours to dictate to police, into evidence.
In that statement,  he spoke of meeting the woman, who had three children, in Guyana and of deciding to move to Barbados to make a better life for themselves.  That was 1998.
"She started to cheat  on me as soon as I come  to Barbados," the statement read.
Harmon's statement said he pleaded with his wife to leave her outside man and she promised him: "I done with he.  He is only going to cause me my death." However, the statement continued, his wife went back to her cheating ways and he warned her of "what will be the outcome `cause I already forgive you twice".
Harmon also dictated  to police how the wife¹s outside man would call and taunt him; how he saw his wife in the man's car on many occasions; how she moved out and then moved back in, only to be close to work and how she told him that he should "find a big truck and run under".
"And I hear [the man] in the background laughing," Harmon  told police.
On the day of the killing, Harmon said  his wife and he had  a conversation during which she spat in his face, told him she had infected him with AIDS.
He said his wife put  oil on the stove to heat, threatened to douse him with it and attacked him with a knife.
"After she pelt a juck,  I take the knife and I keep on jucking she. I say you put on hot oil to throw?  I gine throw it back  on you `cause you planned  to throw it on me,"  the DPP read.
The statement then detailed how Harmon packed his bags, caught  a van to Bridgetown,  then to Bathsheba, before eventually making his way to the Grantley Adams International Airport where he was held  by the police.
Around the Web