Guyana Telephone and Telegraph (GT&T) technical staff on Wednesday met with a team from Global Marine Services Limited to advance discussions about implementing the Suriname Guyana Submarine Cable Project.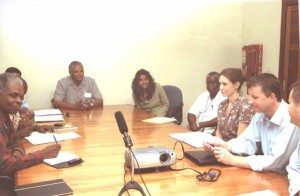 According to a press release GT&T CEO Major General (ret'd) Joe Singh told the team that the country is anxious to experience the boost in service that the new project will bring.
He said too the country's investment climate hinges on the enhancement of the company's capacity and capability. Singh said he hoped that the project would be completed within the contracted timelines. The cable is expected to be ready for service by early 2010.
The team from Global Marine and their local counterparts are expected to determine the most appropriate location in Guyana for the landing of the cable. The team came here a day after hosting similar discussions with Telesur, the national telephone company of Suriname.
The release said the agreement entails laying a US$60M fibre optic cable which will link Guyana and Suriname to a worldwide network of similar cables through a landing station in Trinidad.
The cable will represent a potential 3000 to 4000 increase in telecom bandwidth currently available through the Americas II cable and satellite links.  "It will virtually eliminate the probability of international communication outage to Guyana's residential and business users," GT&T said. The investment represents Atlantic Tele Network (ATN), GT&T's parent company, continuing commitment to the country, the release said.
GT&T noted that in December ATN finalized an agreement with Telesur to construct, maintain and operate the 700 mile joint cable system. At the same ceremony hosted at the Royal Torarica in Paramaribo, the companies signed another agreement with Global Marine for the laying of the new state-of-the-art cable.
Around the Web