The prisoner who escaped from in front of the Camp Street prison last month was sentenced to an additional two years imprisonment when he appeared before Acting Chief Magistrate Melissa Robertson at the Georgetown Magistrate's Court.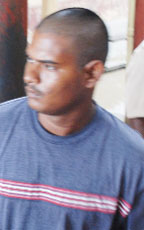 Suraj Narine Singh, 20, of Lot 5 Mon Repos, East Coast Demerara pleaded guilty to the charge of escape from lawful custody.
On January 28, Singh escaped while being a convicted prisoner at the Georgetown prison for robbery under arms.
Prosecutor Denise Griffith stated that on the day in question around 12:30 hrs Singh was fetching several lengths of plywood when he escaped. The prison officer who was around at that time made a report to the police station and Singh was later arrested and charged.
Meanwhile, Singh told the court that he was indeed fetching the plywood when he escaped. He said that he had escaped to see his eight-month-old baby who was sick. He said last Friday he went to see the child at his wife's home in Mon Repos and then he went to his father's home in the same area so that when his father arrived from work he could take him to the police station. Singh said he was waiting for his father to come home when the police arrived and arrested him. He said that he was currently spending a three-year sentence for robbery under arms.
The magistrate subsequently ordered that Singh spend an additional two years in prison for the escape from lawful custody.
Around the Web