In a shocking twist, Guyanese businessman Shaheed Roger Khan yesterday pleaded guilty to all pending charges against him in the US, including drug trafficking and witness tampering and is likely to serve 15 years behind bars.
Stabroek News understands that Khan appeared in the New York Eastern District Court before Justice Dora L Irizarry at 5 pm yesterday and pleaded guilty to indictments in three criminal matters: narcotics trafficking, obstruction of justice and a separate gun running charge. It is unclear if the plea was accepted.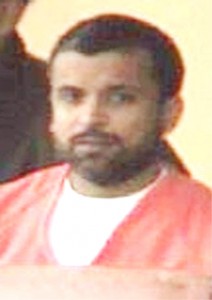 In a letter to the presiding judges in the New York courts, US State Attorney Benton Campbell indicated that the prosecution and the defence had come to an agreement for Khan to receive a 15-year sentence when he pleads guilty to all charges.
Benton indicated the agreement in the event that the judges considered consolidating all three matters for Khan to plead guilty in one court. To this end, the US attorney for the District of Vermont agreed to transfer the weapons charge to the New York district, where the narcotics trafficking and obstruction of justice matters are being heard. "While the defendant consents to consolidation, and the parties believe that it may facilitate the resolution of these matters, the government takes no position on the issue and we leave it to the discretion of Your Honours," Benton said in the letter. He added that under the Federal Rules of Criminal Procedure "…the government has agreed to a sentence of principally 15 years imprisonment in order to resolve all three matters." Under the Federal Rules, the court would be bound by the sentence request once it accepts the plea agreement.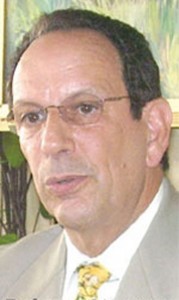 The latest twist in the saga comes less than two weeks before the scheduled start of Khan's trial on the drug charges, for which he could have been sentenced to life in prison.
Khan was captured in 2006 when he fled to neighbouring Suriname after local police went after him. He was nabbed during a cocaine bust along with his bodyguards and thrown into jail in that country. He was later arrested in Trinidad while en route to Guyana, and taken to the US where he has been in jail since.
Prior to fleeing to Suriname and in response to police searches of his various properties and a wanted bulletin being issued for him, Khan had placed newspaper advertisements in the Guyana Chronicle and the Kaieteur News stating that he was involved in crime fighting in Guyana and had worked closely with local and US law enforcement officials.
Since being imprisoned, Khan and the prosecution have made some explosive statements about the inner workings of his criminal enterprise and other matters in Guyana. Khan's former lawyer, Robert Simels, who, along with his assistant, Arianne Irving, is now his co-defendant in the witness-tampering charge, had stated that US government investigators had learnt that Khan received permission from the Guyana government to purchase surveillance equipment capable of intercepting and tracing telephone calls made from landline or cellular phones. The software is reportedly only sold to governments.
Only last week, US officials had indicated that the same equipment, which was originally seized from Khan at Good Hope in 2003, was recovered from Simels's New York law offices. Guyana's President Bharrat Jagdeo, however, has since said that Commissioner of Police Henry Greene has assured him that the equipment is in the possession of the local police.
David Clarke
Meanwhile, one of the witnesses Khan, Simels and Irving had been charged with attempting to "eliminate and neutralize," retired Guyana Defence Force (GDF) major David Clarke, who is himself sitting in a US jail on drug charges, was to have testified on how he conspired with Khan to traffic in narcotics. Clarke was said to be the main witness in the drug trial, as he was the only witness who could have testified that he spoke to and met Khan during the period he trafficked in narcotics.
Khan for his part had long since attempted to distance himself from Clarke, against whom he made "assorted accusations" at a meeting in March 2006 with US officials at the Ocean View International Hotel. He had sought to provide "evidence" that Clarke and others had worked in concert with February 2002 prison escapee Shawn Brown, who was later wanted for a series of high-profile murders, kidnappings and robberies.
Khan had alleged that during Clarke's tenure at the head of 'Operation Tourniquet'–a joint army/police operation to arrest the wave of criminal activity emanating from Buxton after the jail break–was in league with Brown, who was responsible for kidnapping former US embassy officer Stephen Lesniak in April 2003.
In a transcript of a conversation between Simels and a confidential US government source, who was responsible for Simels and the others being charged with witness tampering, it was revealed that Khan had at least one meeting with a government minister in the presence of the source.
Guilt was strong
Khan is charged with conspiring to import cocaine into the US over a five-year period from January 2001 to March 2006. The US government said that he was the leader of a cocaine trafficking organisation based in Georgetown. It also asserted that he was able to import huge amounts of cocaine into Guyana, and then oversee exportation to the US and elsewhere. The US government had charged that a significant amount of the cocaine distributed by Khan went to the Eastern District of New York for further distribution. As an example, it cited a Guyanese drug trafficking organisation based in Queens, New York, which it said was supplied by Khan. The Queens organisation was said to have distributed hundreds of kilos of cocaine in a two-month period during the spring of 2003.
Initially, after he was arrested in 2006, Khan through his then lawyer Simels, had applied for bail but US State Attorney Roslynn Mauskopf in submissions had maintained that evidence of Khan's guilt was strong and that his history in the United States suggested that he could easily flee to Guyana. In response, Khan's lawyers had submitted that they could have obtained a statement from the Guyana government that it would bar Khan from returning to the country.
According to Mauskopf, Khan had resided in the US and committed crimes in both Maryland and Vermont. On January 6, 1992 he was convicted in Montgomery County of breaking and entering and theft. While he was on probation for that offence, he was arrested in Burlington, Vermont for receiving and possessing three firearms while being a convicted felon. He was subsequently indicted and was released on bail in November 1993. He promised to obey all conditions of his release but fled to Guyana in 1994 in order to avoid prosecution and as a result there is an outstanding warrant for him, for violating the conditions of his partial release and an outstanding warrant in Rockville, Maryland for violating the conditions of his probation.
Witness tampering
Khan's troubles deepened last year when he, Simels and Irving were hauled before the courts and charged with conspiracy to tamper with witnesses relating to the drug trial. Simels was accused of making an alleged US$1,000 payout and having discussions about "eliminating and neutralizing" witnesses. He and his assistant allegedly had numerous discussions with a US government informant, to locate certain individuals close to the case and to get them to rescind statements, not testify against Khan, and or even to be eliminated.
In her affidavit to support the charges against Khan, Simels and Irving, Special Agent of the Drug Enforcement Administration (DEA) Cassandra Jackson said that during Khan's drug trial the government would seek to establish that he was the leader of a "violent drug trafficking organisation [the Khan organisation] that was based in Georgetown, Guyana, from at least 2001 until his arrest in 2006." She had said that Khan and his co-conspirators obtained large quantities of cocaine, and then imported the cocaine into the Eastern District of New York and other places for further distribution. "Khan was ultimately able to control the cocaine industry in Guyana, in large part, because he was backed by a paramilitary squad that would murder, threaten, and intimidate others at Khan's directive. Khan's enforcers committed violent acts and murders on Khan's orders that were directly in furtherance of Khan's drug trafficking conspiracy," Jackson had said. She said the paramilitary squad was referred to as the 'Phantom Squad'.
These same accusations had last year led Justice Irizarry to rule in favour of an anonymous jury for the drug trial. The judge was of the opinion that the dangerousness of Khan, as alleged by the prosecution, was a fact worth considering since according to one of the government's confidential sources the 'Phantom Squad' Khan was associated with was responsible for "at least 200 extra-judicial killings" in Guyana from 2002 to 2006.
While Khan was not charged with crimes considered violent in nature, his involvement with and leadership of a criminal organisation indicated his propensity for violence, the judge had pointed out. In making her ruling, the judge said there was evidence of Khan's willingness to tamper with the judicial process since he admitted that in 1993 he successfully evaded federal prosecution in Vermont for possession of a firearm by a convicted felon by absconding to Guyana while on bail. That action, the judge said, indicated his ability to tamper with the judicial process in the US.
Execution-style killings down
The US Government had also accused Khan of murdering boxing coach Donald Alison, who was gunned down outside his Agricola home and Dave Persaud who was shot and killed outside the then Palm Court Restaurant and Bar on Main Street. Khan denied the charges, stating Alison had been supplying the Buxton criminals with guns and that national cyclist, Tyrone Hamilton, knew who had killed Persaud.
In Guyana, the police appeared to have accepted that Khan was responsible for the execution-style killings. In November 2007, Crime Chief Seelall Persaud claimed that since Khan's capture, execution-style killings in Guyana dropped considerably from 43 in 2006 to 12 in 2007.
Persaud said Khan had a group of men who worked with him while he was here, but since he had been locked up the men had all gone in different directions. "We believe that Mr Khan was involved in narcotics trafficking and since his arrest we have seen a fragmentation of his gang instead of them being one place they are all over the place," Persaud had declared. When asked why–since the police knew Khan operated a gang and had men–the force had not gone after them, Persaud said charges were laid against individuals based on evidence. He had said the police were still conducting investigations on Khan's men.
Prior to being arrested, one of Khan's associates had told this newspaper that the businessman never got involved in actual operations. The associate, who had asked not to be named, said the drug accused used his own bodyguards and a network of armed informants–the 'Phantom Squad'–made up of mainly ex-convicts and ex-policemen.
Khan had boasted that when Lesniak was kidnapped and taken to Buxton he had  met operatives from the American Embassy here on a daily basis and provided them with information and hard evidence that led to the issuance of an arrest warrant for escapee Brown, who was thought to have masterminded the abduction. Brown was later cornered in a house a few days after and shot dead by the police.
Stabroek News was told that Khan employed ex-convicts and policemen, paid them and had them gather intelligence on the whereabouts of the five escapees Browne, Troy Dick, Andrew Douglas, Dale Moore and Mark Fraser. The quintet had made a bloody escape from the Camp Street Prison on February 23, 2002. Their escape was the catalyst for a wave of crime that the country had never before experienced. During this period some 21 policemen were shot dead and numerous civilians murdered. This period also saw scores of policemen leaving the job, while confidence in the force was at an all-time low.
Around the Web