The Upper Corentyne Chamber of Commerce (UCCC) elected a new executive body on March 15 at its annual general meeting.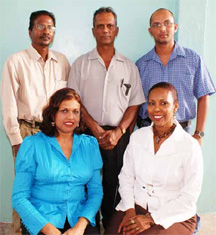 A release from the body said that M.B. Dudnauth was elected president of the UCCC and Vishnu Doerga vice president. Sachie Ramnauth, Kamalnauth Dhanai and Celine Davis are UCCC secretary, treasurer and treasurer/secretary respectively. Seven committee members were also elected.
In the press release the UCCC, which is also a member of the Association of Regional Chambers of Commerce (ARCC), stated that its main objective "is to continue the promotion of development in trade and commerce within the region" and to work with the government and other agencies to protect the private sector. Meanwhile, an ambulance service at the Skeldon Hospital, animals which roam freely on the road and the speed limit on the Corentyne Public Road are issues the UCCC will address this year, the release said.
Around the Web