Mrs Jagan, who was a co-founder of the governing PPP and the country's first female head of state, passed away at 12.36 am yesterday in the Intensive Care Unit of the Georgetown Public Hospital. She had been admitted to the hospital for observation on Friday afternoon after complaining of feeling unwell. She was  88 and had been ill for some time.
Funeral arrangements are to await the arrival of her daughter, Nadira Jagan-Brancier, although it is expected that she will be accorded a state funeral, tentatively scheduled for Tuesday. President Bharrat Jagdeo, who is currently in the Middle East on a series of visits, took the decision to cut short his tour to immediately return to the country upon receiving the news of Mrs Jagan's death. Amid a flood of tributes, the Guyana Government said the nation lost one of its greatest citizens, noting that she had exhibited strength, courage, humility and commitment to its development.
Although she was born in Chicago, Illinois, in the US, she was a tireless campaigner for Guyana's independence alongside her husband, the late President Dr Cheddi Jagan. In opposition during the years of PNC rule, she was also at the forefront of the struggle for free and fair elections. In 1997, she succeeded the late President Dr Jagan in the office of the president − though not without a great degree of controversy.
In addition to her political activism, Mrs Jagan was a pioneering women's rights advocate, a journalist and later an author of children's stories and patron of the arts. She was instrumental in the establishment of the National Art Gallery in Castellani House, and sat on its board. Widely read herself, she lent her presence in support of any number of local book launches.
She was conferred with the Order of Excellence (OE) as well as the Gandhi Gold Medal for peace, democracy and women's rights. Mrs Jagan was also part of the quartet that founded the Political Affairs Committee (PAC), which was the precursor to the PPP. She remained an active party member, serving on its central and executive committees up to the time of her death. She was also editor of the party's official organ, Thunder and continued to pen columns for the Weekend Mirror newspaper. Her decades long activism rooted her firmly in the national consciousness, where she was widely known as "Janet" to a wide range of supporters and detractors alike.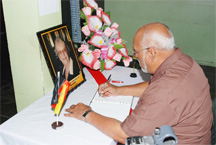 According to Dr Cheddi "Joey" Jagan , Jnr, Mrs Jagan lived a full life, pursuing a commitment to democracy that was based on her genuine concern for the people. He said she was instrumental in bringing free and fair elections, to which she remained committed. "My mother gave more to Guyana than a lot of people who call themselves patriots here," he stated. "Although she was a politician − and politicians have their own endgame − I can tell the world my mother was not corrupt," he added, saying that she was opposed to all the bad things in politics.
He said her grandchildren were particularly devastated by her passing but he took consolation in the fact that she lived a full life. "It's devastating that she died, but she was eighty-eight, she lived a full life and she did everything a person could try and do and she left her mark," he said.
Jagan Jnr noted that she could have simply stayed in the US and been very successful, recalling her background in journalism and aviation in addition to her training as a nurse. Instead, he said, she worked tirelessly here during the dark days, remaining totally committed to a parliamentary democracy. "Overall, my mother was a good mother and good to the Jagan family," he said, adding that without her, the Jagan family would not have made it to where it is today.
He described her as a remarkable woman, saying she had a deep intellect, a caring personality and a loving heart.  Although she was always busy, he noted, she always found time for his welfare and that of his sister, who are both proud of their parents' work.
Although she left Chicago more than 60 years ago, Jagan Jnr said his mother still managed to distinguish herself as a Chicagoan. He said the night before she died, she told him someone called her from Chicago to inform her that she was on a list of famous Chicagoans. "So that tells a lot about her own mark," he explained. "As a person who grew up in Chicago… for them to name her as one of the leading Chicagoans is quite remarkable."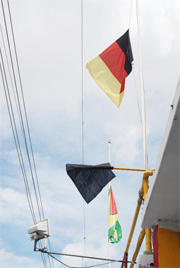 He also related another story about his daughter, who is currently attending law school in California. She informed him that one of her professors, a native of Chicago, later revealed that he had read everything by Janet Jagan, but knew nothing of Cheddi Jagan. "My daughter was so shocked, he didn't know about Cheddi Jagan," he said.
At the Freedom House headquarters of the PPP, the national flag and the party flag adorning the front of the building were both flown at half mast, while black flags were also being flown to signify the death. A sombre atmosphere pervaded the building, where party members gathered to reflect on the loss. A book of condolence was also opened at the party headquarters.
PPP General Secretary Donald Ramotar told Stabroek News that there were mixed feelings among her comrades. "There is a deep sadness among those who knew her for most of her political life and who also benefited from her kindness and generosity over the years," he said, "but on the other hand we know she had a full life and her life is one that should be celebrated…"
Ramotar highlighted the fact that she migrated from one of the richest countries to one of the poorest and made it her home, becoming Guyanese in every sense of the word. "She fought for social liberation," he said, "Her whole life was associated with the downtrodden and she was always on the side of the working people, the oppressed people, the disadvantaged it; she was a champion for them." He said she had a strong commitment and feeling of responsibility to the people, believing that a better world was possible.
He described her as a different politician, shying away from publicity to work quietly behind the scenes. At the same time, he added that she did not shy away from her duties and responsibilities, which she carried out with discipline. He emphasized that she was very hard working, even in recent years, noting that four years ago she agreed to edit the Thunder once again and managed to meet the quarterly deadline every single year. He added that even after she broke her arm in late February, she continued to write.
Ramotar spoke with her at her home before she was admitted to hospital. He had heard that she was in pain and the doctors suspected that she had kidney stones. According to him, they also spoke of the international financial crisis as well as about a meeting of the central committee planned for yesterday. She had asked him to make an excuse for her absence.
Ralph Ramkarran, a member of the PPP's Executive Committee, described her as "a great patriot" and "a dedicated Guyanese," who devoted her entire life to the wellbeing of the country and the people. He also described her as an "extraordinarily kind" and "generous woman," saying that there are very few people who knew her genuinely who would not have noted these qualities.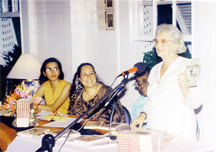 According to Ramkarran, his father had joined the PAC shortly after its formation and later became a founding member of the PPP. As a result of the closeness between the two families, Ramkarran said, Mrs Jagan was always a part of his life. "I grew up as part of the PPP and I couldn't tell you when I met her because she was always there," he said. He added that when he returned to Guyana in 1973 and began his political activism he worked very closely with her and members of her group.
Ramkarran said Mrs Jagan's life was centred around politics, noting that her relationships, including her husband, her family and her friends were all connected to political activism. At the same time, he said she long had to contend with demonization by the opposition and other forces, which as early as the 1950s sought to portray her as the real architect of Cheddi Jagan's success – a claim she would dismiss as racist.
Mrs Jagan served as head of state from December 19, 1997 to August 11, 1999.
Following the death of her husband, President Cheddi Jagan, in March of 1997, Mrs Jagan decided to contest for the office. She had said that before he died he told her that he wanted her to continue his work and she agreed to follow his wishes. She was subsequently sworn in as Prime Minister of Guyana and first Vice-President on March 17, 1997.
For the 1997 elections, she was chosen as the PPP/C's presidential candidate, leading to the creation of the so-called 'A' team, which would later pave the way for President Bharrat Jagdeo to accede to the presidency. It was announced then that if anything were to happen to her, she would be replaced by the representative of the party, Jagdeo, while Prime Minister Samuel Hinds, representing the Civic portion of the ticket, would remain in the Prime Ministerial position.
Mrs Jagan triumphed in a highly controversial election and was sworn in at a private ceremony attended by only a few persons amid reports that there was going to be a legal attempt to stop her swearing in. At a public ceremony held later at State House, High Court marshals attempted to serve an order to stop the swearing in. She controversially tossed the document over her shoulder after it had been served on her. She later explained that she meant no disrespect to the courts but had been moved to act by what she felt had been decades of injustice meted out to her, her late husband, the PPP and its supporters. It was the type of action her supporters said typified the fighter in her.
However, Mrs Jagan's presidency was marred by political unrest over the election results and the manner in which she was sworn in. In the face of protests, led by the main opposition PNC, she subsequently agreed, among other things, to cut her term in office by two years under  terms of the January 17, 1998 Herdmanston Accord, which was brokered by Caricom statesmen. The situation of unrest continued in various forms, with the PNC boycotting the Parliament, leading to the St Lucia Statement of July 2, 1998 in Castries, St Lucia where she shook hands with PNC Leader Desmond Hoyte on other commitments.
Mrs Jagan's presidency was in large part defined by the paralyzing public service strike in 1999 which spawned a crisis and sapped her energy. In announcing her resignation on August 8, 1999 Mrs Jagan said: "I considered at length and consulted close colleagues on the question of my continuing in office as President. It is now my firm and studied conclusion that I can no longer offer to the nation the vigorous and strong leadership that I had sought to provide during my 20 months as the lawfully and duly elected President of the Republic of Guyana. I therefore wish to announce that I intend to resign my position as President and to fulfil the promise I made during the 1997 election campaign."
Prior to her resignation she had fallen ill and had had to be hospitalised here.
Some analysts have contended that Mrs Jagan did not make the wisest decision in contesting for the presidency as she was not seen as a candidate of conciliation who could bridge divisions with the opposition and be a candidate of compromise. Others, however, felt that the reason she agreed to be candidate was to avoid a divisive bare-knuckles fight within the PPP to succeed President Jagan, as there was no clear choice.
After her resignation, Mrs Jagan continued to be in the public eye playing an integral part in the preservation of her husband's memory and legacy and being a patron of the arts. She attended a lecture in memory of her husband last week.
In its statement, the government said Mrs Jagan's selfless and dedicated service to the country was rendered during her long, varied and honourable career in public life over six decades. It noted that she struggled alongside her life-long partner and husband, the late President Dr Jagan, against colonialism and fought for peace, democracy and justice both here and abroad. "Through her determination she worked tirelessly to enhance the lives of all Guyanese, especially poor women and children," it added, while describing her as a modest and simple woman, who carried herself with great dignity and integrity. The main opposition PNCR paid tribute to Mrs Jagan for playing an important role in shaping the early political culture of the nation, helping to push the issue of women rights and liberation to the top of the national agenda and being a fighter for independence. The PNCR said she made an important contribution to national development, recalling that as a Minister, she made her mark in the field of Health, Housing and Home Affairs, and as a legislator, as a Senator and member of the Legislative Assembly.
Two years ago, Mrs Jagan was asked about reconciliation between the two parties and she told Rickey Singh: "I don't think that either side has that as a priority right now, but I would prefer to leave it at that…"
Mrs Jagan, who was born in Chicago, Illnois in the US, married Dr Cheddi Jagan on August 5, 1943. She was fervently committed to the marxist/communist ideology and was believed to have played an influential role in his early political development.
She came to British Guiana with him in December 1943 and worked for 10 years as a dental nurse in Dr Jagan's clinic. She became immediately involved  in the labour struggle and as a member of the first ever union in the colony, the British Guiana Labour Union. She was also the co-founder of the Political Affairs Committee. Mrs Jagan was elected General Secretary of the PPP in 1950 and served in that post until 1970. She was a founder of the Women's Progressive Organisation and became the first elected woman to the Georgetown city council. She was later one of three women to enter the House of Assembly as a representative of the Essequibo constituency.
Following the suspension of the constitution and the ousting of the government, Mrs Jagan was jailed for six months in 1955 and restricted to Georgetown after her release. When the PPP was returned to power in the 1957 elections she was appointed Minister of Labour, Health and Housing – one of her famous posts. In 1963 she became Minister of Home Affairs but resigned a year later over incidents of violence in Wismar. She became a member of the Elections Commission in 1967 and played an active role in the opposition years during which she played a significant role in Parliament. After the party's triumph at the 1992 election, Mrs Jagan served for three months as the country's ambassador to the United Nations.  She leaves to mourn her son, Dr Cheddi Jagan Jnr, daughter Nadira Jagan-Brancier, five grandchildren and many other relatives.
Around the Web