National striker Nigel 'Powers' Codrington featured in Charleston Battery's 1-2 defeat to Toronto FC in the Carolina Challenge Cup at Blackbaud Stadium USA.
Codrington, who is on a try-out with the team, played the entire second half but, according to reports, was unsuccessful in finding the back of the net.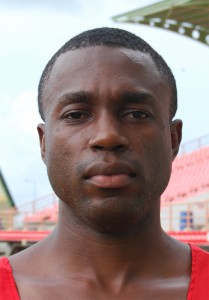 The striker's try out with the United States League (USL) first-division team was made possible by Maryland-based Guyanese, Steven Springer along with Colin Baker, CEO of the Guyana Sports Development Found-ation who told Stabroek Sports that striker did not have many touches but when he did, he made good use of them.
The Camptown striker has been with the club since late February and Baker said that it was the coach of the club who contacted him asking for them to have a look at the player.
He added that if the club likes what they see of Codrington he could be included in the team for the present tournament which features three MLS Clubs; Toronto FC, Real Salt Lake and DC United.
Charleston Battery's next game will be against Real Salt Lake and Codrington would want to do well to enhance his chances of playing in the MLS tournament.
This is not the first time that Codrington is making his mark on US soccer. He had a stint with the Cleveland Stars in 2007, a USL club which plays in the second-division league.
Codrington says he is indebted to Sharon Barnwell of Caribbean International Shipping Services of Atlanta, Georgia along with Jermaine Smartt and Mervin Nicholson of Campton FC amongst others for their unwavering support and encouragement.
Around the Web