– Amelia's Ward to come alive  Sunday
Bread and pastry giant Bakewell yesterday presented an undisclosed sum of cash to the Kashif and Shanghai organization which is promoting an Inter-Ward Fitness Day Sunday at Amelia's Ward, Main Street, Linden.
Bakewell Manager Rajin Ganga  presented the cheque to Aubrey Major, Director of the K&S organization.
Ganga said Bakewell  has always been very supportive of sport and its development especially at the community level and this time it is no different.
"We are very pleased that we could be a part of an event of this nature which brings out the young and old to enjoy some clean exciting activity."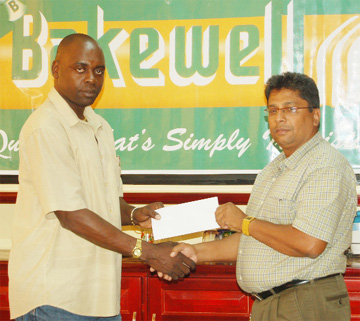 According to Major, his organization has observed that many of the senior folks in Linden have become fitness conscious and they saw the need to encourage this level of health consciousness.
"We see the need to put on this fitness day where we could bring everybody together and encourage them to continue in this vein."
Children from as young as eight to the very old will participate in BMX and mountain bike races, athletics (40m etc) and race walking among other novelty events and the day is expected to be very enjoyable, according to Major.
"We want to encourage the entire Linden public to come out and be a part of this fitness day. It will be great fun for all." Cash incentives will be given out for each event to the 1st, 2nd and 3rd place finishers. Major also informed that they are aiming to promote an event of this nature twice yearly.
Police and medical personnel will be on hand to ensure a smooth flow in the day's activity.  One of the much anticipated events will be a 40m dash featuring the likes of Kashif Muhammad, Aubrey Major, Horace James, Rajin Ganga, Franklin Wilson and Joe Chapman, among others. Banks DIH and Ansa Mcal Trading have also given  tangible support to this event which will commence at 10:00hrs.
Around the Web