By Marlon Munroe
Training sessions for the 25 players selected by the Guyana Cricket Board to prepare for the upcoming West Indies Cricket Board (WICB) President's Cup competition got underway yesterday at the Georgetown Cricket Club (GCC).
Guyana has lost a lot of ground on the regional scene and both Rabindranauth Seeram, the team's coach, and its skipper, Ramnaresh Sarwan, are cognizant of Guyana's standing going into this tournament.
The two revealed that the state of Guyana's cricket was at the heart of discussions by the squad earlier yesterday.
Former West Indies captain Sarwan said that the team will be preparing the best  way it can.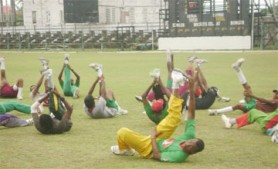 He added that the players selected in the squad have shown they are physically prepared so most of the work will be done on the technical aspect.
Seeram concurred that at the workout, the players showed great enthusiasm and energy.
He said that for the entire week the players will be working on all aspects of the game while on Friday there will be a practice simulation match at the same venue.
Last week-end Seeram had stated that too many of the batsmen have been making ordinary scores at the club and county levels.
Sarwan contended that hopefully, the presence of himself and the dependable Shivnarine Chanderpaul, who is expected home shortly, along with the other players that would have played cricket for the West Indies, will inspire the younger players to lift the level of their games.
Commenting on his form, Sarwan, who was once ranked the number one batsman in the world in the ode-day format,  said that he has not played much cricket apart from the Inter-County matches and a few of club matches for GCC.
He, however, noted that he will be working with the team and on his game to be ready for the tournament that Guyana last won in 2005.
He also said that he has not trained with the national team for awhile for regional tournaments and will therefore be contributing all he can so that team can be successful.
Guyana, who hosted last year's tournament, will host the tournament beginning on October 28.
The squad reads: Ramnaresh Sarwan, Shivnarine Chanderpaul, Travis Dowlin, Sewnarine Chattergoon, Christopher Barnwell, Narsingh Deonarine, Richard Ramdeen, Royston Crandon, Leon Johnson, Shemroy Barrington, Gajanand Singh, Assad Fudadin, Steven Jacobs, Delon Heyliger, Delbert Hicks, Esaun Crandon, Veersammy Permaul, Davendra Bishoo, Brandon Bess, Trevon Garraway, Sauid Drepaul, Mahendra Nagamootoo, Jonathan Foo, Derwin Christian and Dion Ferrier.
Around the Web