By Winston McGowan
This instalment of this article will complete the focus on Clayton Lambert, the last of the six Guyanese cricketers who have scored only one Test century in their career. Last week's instalment traced Lambert's career up to March 1998 when he was selected to represent the West Indies in the final two Tests of a six-match series against England in the Caribbean.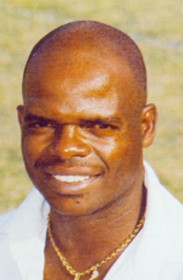 Lambert's selection was a surprise for at least two reasons. Firstly, six and a half years had elapsed since his only previous Test appearance in August 1991 in England. Secondly, he was 36 years old and living in a region which was not accustomed to players in their mid 30s being reinstated in the Test team.
Lambert's recall to Test duty was the result of two factors. The first was the repeated failure of the West Indies opening pair, Sherwin Campbell and Stuart Williams, who in the previous Tests of the series had put on only 16 and 10, 36 and 27 and 16 and 4 for the first wicket. Their individual scores were also highly unsatisfactory — 1 and 10, 28 and 13 and 10 and 17 for Campbell and 19 and 62, 24 and 23 and 13 and 0 for Williams.
Secondly, Lambert's selection was due to his success in the President's Cup regional competition, where he scored 362 runs with an average of 51.71, a major contribution to Guyana's joint victory in the tournament that year with the Leeward Islands. Two days after Campbell (10 and 17) and Williams (13 and 0) failed dismally as openers in the fourth Test at Bourda, Lambert gave the West Indies selectors a powerful reminder by scoring his 19th first-class hundred (104) against Trinidad at Enmore.
It was in these circumstances that the selectors decided to drop Campbell and Williams and replace them with the belligerent opening pair of Lambert and the 27-year-old Barbadian Philo Wallace. Wallace, like Lambert, had had a successful regional season and was making only his second Test appearance. They were the ninth pair of openers used by the West Indies since the end of Gordon Greenidge's Test career seven years before.
Understandably, Lambert's selection just after his 36th birthday sparked off considerable controversy. Wes Hall, the chairman of the selectors, strongly defended his recall, stating: "People may say that Lambert is 36 years old but our position is that we pick our team on meritocracy. We feel that if the man is making a lot of runs, if his attitude is right, if his commitment is there, there is no reason why he should not get into the team."
Hall's view was countered by another former great West Indian fast bowler, Michael Holding, then a commentator and columnist. Holding strongly criticized Lambert's selection, observing that "it is true that he is a consistent scorer at [the] regional level, but his time has past."
The new opening pair soon silenced many of their critics with two sizeable opening stands of 82 and 72 in the drawn fifth Test at Kensington Oval, Lambert making 55 and 29 and Wallace, 45 and 61. Their aggression, unusual in a Test match, evoked commendation. Tony Cozier, the Caribbean's leading cricket commentator, observed that "the dynamic duo set about England in one-day fashion", launching "a breathtaking assault on the bowlers", while the prestigious Wisden Cricketers' Almanack praised their "flamboyantly fruitful batting."
Lambert and Wallace continued their aggressive batting in the following Test a week later at the Recreation Ground in Antigua also in March 1998. It was in that game, Lambert's third Test appearance, that he made his first and only Test hundred.
England, put in to bat on a damp wicket, was dismissed for 127, the lowest total in any Antiguan Test. This score was surpassed by Lambert and Wallace who put on 167 for the first wicket before Wallace was dismissed eight short of a well-deserved hundred. It was what Wisden described as a "violent, highly entertaining stand" in which the first fifty came in 37 minutes off only 7.2 overs and 79 in an hour off 12 overs. It was the best West Indies opening stand and only the third three-figure one since the end of the Gordon Greenidge/Desmond Haynes partnership seven years before.
Lambert reached his hundred with a nudge for a single past backward point, but was dismissed shortly after, caught edging part-time spinner, Mark Ramprakash's gentle off-break to slip. His innings of 104 in 364 minutes off 232 balls had two contrasting phases.
The first phase was during the last two hours of the second day's play when the West Indies began their reply to England's first innings, scoring 126 without losing a wicket. Lambert, in aggressive mould, scored 46 of these runs, including seven fours and one six, off 89 balls.
The second phase was on the following day when in four hours he scored 58 runs with only three boundaries off 143 balls in an uncharacteristically cautious approach. According to the Trinidadian columnist, Fazeer Mohamed, Lambert "retreated into a cocoon of defence." He scored only 34 of the 133 runs, which he and skipper, Brian Lara, put on for the second wicket. Apparently determined to play a big innings to silence the critics of his recall, Lambert batted with tenacity, concentration and patience. His slowness on the third day was counterbalanced by the aggression of Wallace and Lara (89 off 94 balls) at the other end.
Lambert's century was a fortuitous innings in which he was dropped on four occasions, the first two chances at 9 and 15 and the others at 56 and 58. He became so tense in the 90s that he was nearly dismissed on two occasions. At 95 his miscued pull off Andy Caddick just eluded the clutches of the fieldsman at mid on, while at 96 he was nearly run out risking a chancy second run to third man.
Lambert's maiden Test hundred, an undefeated ninth Test century (108 not out) by compatriot Carl Hooper, 92 by Wallace, 89 by Lara and 45 by Roland Holder enabled the West Indies to reach a substantial score of 500 for the loss of seven wickers before declaring. England, 373 behind, was dismissed for 321 in its second innings, enabling the West Indies to gain a massive victory by an innings and 52 runs and to win the series 3-1 with two Tests drawn.
The century by Lambert was historic. He became the second oldest West Indian to score a maiden Test hundred. He was surpassed only by the little-remembered Barbadian opener, George Carew, who was 37 when he made 107 for the West Indies against England at the Queen's Park Oval in 1948, also his first and only Test hundred.
Lambert's hundred enabled him to place second to Wallace (66.00) in his team's batting averages for the series. Lambert scored in 188 runs in three innings at an average of 62.66. He was followed by Lara (52.12), Hooper (49.16) and Shivnarine Chanderpaul (34.00).
Like most of the other Guyanese single Test centurions, Lambert's subsequent Test career was an anti-climax. He represented the West Indies in only two more Tests, against South Africa in South Africa at the end of that same year, 1998. In those two matches he had scores of 8 and 33 and 0 and 2.
In short, Clayton Lambert had a Test career of five matches. In these games he scored 284 runs, including one hundred and one fifty, with an average of 31.55. Somewhat like Leonard Baichan, for such a successful competitor in first-class cricket, Lambert's Test career was very short. He, Chanderpaul, and the fast bowler, Reon King, will go down in history as the only Guyanese to make their Test debut in the 1990s.
Around the Web