Guyanese have witnessed a continuing exhibition of the cheap exercise of power by the government; it is raw, naked, and ugly.  They see newcomers besmirch truth, veterans elevate parrying to an art form, and leaders embrace aggression as a way of life.  They know that power used rightly can be inspiring; but when wielded to shield wrongdoing it diminishes all.
In the beginning it was not this way.  The reins of power rested heavily, the first steps were stumbling.  Many still remember the verbal fumbling, the dripping body language, and the nervous mien of the leading player(s).  In no time, it was learnt that there is a genuine liking for power; indeed, a love for the many nefarious things it made possible.  This led to revelling in the exhilaration of this greatest of aphrodisiacs, and ensuring its extension and consolidation by any means.  Unsurprisingly, it recreated some who became powers unto themselves, forgot who they were, and lost sight of where they came from.  Men and women hooked on the crude expressions of power, be it in piercing speech, protective practices, conduct of brethren, or general decorum  manufactured their own reality.  It is the reality of a religion obsessed with self-worship, and where the high priest is the foremost worshipper.
Not unexpectedly, there is the contemptible bullying and preening involving words that play well to particular audiences; public floggings first to beat down, then silence infidels.  Communication is a one-way street, and there is opportunity for neither rebuttal nor appeal.  In this squalid political tenement, there is little decorum, only much rancour. The cheap exercise of power includes a flaccid machismo bent on settling scores – cross at your peril.  Calls for setting matters straight through exercises in transparency meet a face set like a fist; and the dagger of a single finger greeting.  There is only the stridency of 'No! Never! Not here!' to calls for independent probes of phantoms that write off or phantoms that underwrite.  It is self evident that the situation is too far gone; turning back is out.
In one instance, the nation is run like some family cake shops: certain customers are mistreated; standards are lax, non-existent, or customized to suit the situation; and possible underhanded activities are household matters subject to layers of secrecy and the closing of ranks.  These are the ties that bind, and render outsiders highly suspect.
In a second instance, this government fits the profile of domestic abuser – so prolific locally.  It was itself a victim of abuse; however, it has since come of age and to dominance buttressed by mentality, history, insecurity, resources, and support structure (institutional or off the record) to inflict severe damage.  In effect, all the contributory factors are present and utilized to terrorize on a national scale.  From the mounting evidence, the government does so to the hilt.  When looked at bloodlessly, it becomes increasingly clear that its despicable behaviour rings with 'cuss out' hostility; slashing and dangerous broadsides; and the continuously smouldering embers of scorched (h)earth practices.  These have been the wounding fruits from its poisoned tree that sicken all, whether victims or bystanders.
These are two circumstances – the family cake shop and domestic abuse – with which the Guyanese public is very familiar.  There ought to be little difficulty in understanding how seamlessly certain actions of the government fit into both situations.  It becomes obvious from the protective circling of wagons to sturdy defiance to absence of shame and to flight from reckoning.  In all of this, Guyanese should appreciate that, in this Manchurian democracy, the real target is the rule of law; or covering up violations of it.
From the government's perspective, and given this sensitive milieu, there are no neutral parties standing for national interests, only enemies.  Pointed questions are construed mainly as challenges of a personal nature with sinister motives; hence the deterioration to cutting down dissenters and blocking out troubling issues through the sabotage of democratic inquiry.
It is startling how deep the sabotage runs today.  Recall when political street thugs feared the presence – and evidence – of video cameras; now governing bosses fear the magnification of microphone, newsprint, and forensics.  They seek to eliminate through the charade of denying, evading, lashing out and stonewalling to scotch exposure.  There is the telling irony in Guyana of leading lights repeatedly taking the low road to hurl invective, to be muscular in resistance, and to engage in trashy displays without a concern in the world.
Without a doubt any inclination towards restraint, such as it was, is over.  Routine events are seized to remind the recalcitrant who is in charge, and who is calling the shots; the arrogance of cannot touch, cannot remove, cannot caution.  Little can be done to eliminate the flaunting and taunting and accompanying flouncing that decorates a certain kind of political lewdness.  Make no mistake: it is not weakness in the head only, but sickness within the whole underlying body.
Having said all this, and left out much more, what remains by way of exhortation and expectation?  By now, the former is a lost cause, as the politically locked environment, the individual gut satisfaction, and the power induced high all contribute to a dismissal of accountability and smashing of restraint.  Therefore, the expectation can only be for more of the same denigrating obscenities.  For there is lacking the moral imperatives and guiding forces of reputational risk and democratic character.  To repeat: the odious brand of politics existing and individuals driving it are too far gone to turn back now.  There are just too many misrepresentations, cover-ups, and atrocities present in the land that demand the fateful course be stayed.  Matters can only get worse, much worse.
Lord Acton said, "Power tends to corrupt, and absolute power corrupts absolutely."  The nation has constantly experienced the ravages of the first, now it hovers close to the nightmarish reality of the other.  This is the Spanish Armada – overwhelming and menacing – on the stream of Guyanese consciousness; unlike old England, however, there are no Francis Drakes to rescue us from what has evolved into a clear and present monstrosity.
Comments
CARACAS/HOUSTON (Reuters) – Venezuela's unraveling socialist government is increasingly turning to ally Russia for the cash and credit it needs to survive – and offering prized state-owned oil assets in return, sources familiar with the negotiations told Reuters.
By Carl Bildt CHICAGO – We are now in the final days of the industrial age.

During Men's Health Week, the man/woman in the street were asked to speak on their lifestyles and what they do to maintain their health or to encourage their significant others to lead healthy lifestyles.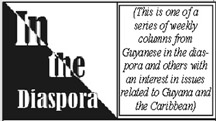 By The Caribbean Voice There are no reliable statistics on the amount of persons engaging in the use of illegal drugs or those described as addicts.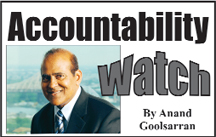 In last week's article, we referred to the two recognized methods of accounting for costs relating to the exploration, development and production of crude oil and natural gas: the "successful efforts" (SE) method and the "full cost" (FC) method.