Nollywood continues to welcome with open arms talent from our brothers in other African countries most especially Ghana. A new entrant that is fast becoming a household name is John Dumelo. Handsome, suave, chocolaty brown… those are the words that come to you when you see him.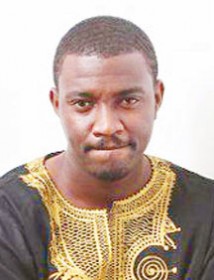 Nollywood Uncut chats with him…
NU: Okay so John, where are you from; where were you born?
JD: I was born and bred in Ghana. My mom is half Fanti and half Ashanti – and dad is Ewe.
NU: How did you get into acting?
JD: I got into movies about six years ago – and I started off acting in the TV series 'About to Wed', later in several commercials and then two years ago I was called to come audition for the role of king in The King Is Mine. That was my very first movie
NU: Would you say you have had your most challenging role yet and if so which one was it?
JD: The King Is Mine, I would say is the most challenging, because it was my first movie. My character was king and I had to transform myself in everything I did. And you have to remember this was my first movie.
NU: What would be the ideal role you would love to play some day?
JD: I think the ideal role I would love to play – something that truly challenges me would be playing a mentally retarded or disabled person in a movie. I think that will be my ideal role.
NU: Who are your favourite Hollywood movie actors or actresses?
JD: My favourite actors of all time are Denzel Washington and Chris Tucker, and in our industry I truly appreciate actors such as RMD, Ramsey Noah and Majid Michel.
NU: When moments of self doubt come to you in life, what do you do or say to yourself to erase that doubt – and I ask this question for the many young people maybe in Ghana who want to get in the acting business but don't have the confidence due to self doubt or because their parents, family or friends don't support their artistic idea.
JD: The very first thing I would say is to pray first and seeks God's guidance and direction. And also you have to remember many people who tell you, you can't, and make you doubt yourself probably want to be in your shoes but don't have the confidence like you do, to even try.
NU: If you were not an actor what would you be?
JD: Real estate – I am currently into it now.
NU: Really? That's interesting, so you do real estate concurrently with acting? That must be hard.
JD: Yes but I make it work somehow
NU: How many brothers and sisters do you have?
JD: I have two 2 older sisters
NU: How many languages do you speak and what are they?
JD: I speak Ga, Fanti and a little bit of Ewe,
NU: Are you single?
JD: No I am not.
Around the Web