The World Wildlife Fund (WWF), SOL Guyana and the Eerepami Foundation have donated cash and other items to the Guyana Marine Turtle Conservation Society (GMTCS) for monitoring and other exercises vital to the success of the 2010 marine turtle nesting season.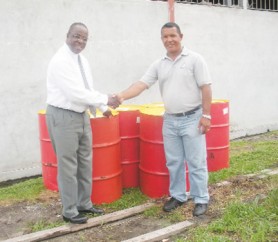 In a statement, GMTCS Country Coordinator Romeo De Freitas expressed gratitude to Director of WWF (Guyana) Dr Patrick Williams, Director of SOL Guyana Ken Figaro, Robert Spitzer of the Eerepami foundation and Dr Peter Pritchard of the Chelonian Research Institute (CRI) for their support.
Dr Pritchard, who is also co-patron and founder of the GMTCS, provides financial support for the education awareness programme and has over the years met the needs of the project at very short notices, De Freitas said.
The WWF contributed US$33,000 for this year's nesting season. The funds will be used to monitor activities in the fields. According to the statement, over the past 11 years the WWF has been a committed donor to the project. It funded the Marine Turtle Fun Day in 2008 and an endangered species camp held in Santa Rosa last year. It has also funded the exchange programmes between the GMTCS wardens and the Rangers of Stinasu in Suriname which started last year and several trips for the GMTCS wardens to participate in regional and international symposiums. The WWF also subsidised the 2010 exchange trip, which has already been held.
Meanwhile, SOL Guyana has committed to providing 30 barrels of gasoline valued over $1M. SOL started this initiative in the early 1990s and for over 15 years its contribution has been essential to the sea turtle monitoring programme. The fuel helps wardens to conduct sea patrols and monitor several nesting beaches along the north western sea coast, De Freitas noted in his statement. The fuel has also allowed eight groups of students from fishing communities in Region One to participate in environmental classes at the beach. De Freitas said these classes are structured to allow the pupils to see the nesting turtles. He said the programme has been ongoing for the past 20 years and additional expenses to host it are provided by small grants from the CRI in Florida.
De Freitas said the GMTCS also recently signed a Memorandum of Understanding with the Eerepami Foundation which has provided support in cash and kind. He said the Foundation donated US$3,500 to pay salaries for two additional wardens for this season, six solar panels and two tents for the field stations. The Foundation also sponsored a warden's attendance at the Annual WIDECAST Regional meeting held in Martinique, in March. De Freitas said the "generous contribution" from the donors is vital to the conservation of four of the world's seven species of endangered marine turtles that nest in Guyana.
Around the Web