Three days shy of her 80th birthday, Yevonne Monthouth died yesterday after she was hit by a car while attempting to cross a road.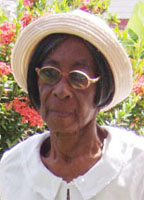 The Georgetown Public Hospital said Monthouth, of 382 Dove Square, South Ruimveldt was taken to the hospital at 11am after the accident, which occurred on Main Street. She sustained multiple fractures and succumbed some time after noon, relatives said.
Dacia Monthouth told Stabroek News that her mother-in-law was on her way to the Cheddi Jagan Dental School on Carmichael Street, when she was hit. Dacia suggested that the woman had just exited a bus and was attempting to cross the road at the corner of Quamina and Main streets when the accident occurred. Another daughter-in-law, Omiyana Smart, who had visited the Brickdam Police Station, recounted that the police told her the driver said her mother had stopped and he (the driver) and Yevonne made eye contact. Omiyana further related that the driver said that as he took off again, the woman made an attempt to cross the road at the same time and she was hit. Dacia, however, interjected and stated that the driver should have allowed her mother to cross since she was an elderly woman.
The driver is currently in police custody.
Yevonne Monthouth was described by the two women as very quiet and humble and "a healthy 79-year-old" who was always active. A nurse before retiring, Monthouth's daughters-in-law said that the woman "can handle herself" and would usually go out alone either to the market, to collect her pension or to pay her children surprise visits. On July 16, she would have celebrated her 80th birthday.
Yevonne Monthouth was a mother to many, Omiyana said, adding that her absence will be deeply felt by a family which was still trying to come to grips with the loss.
The woman's daughters-in-law were trying to gain access to her house yesterday, since she was the only person with the keys and police told them that her bag was not found after the accident.
Around the Web