Several hours after slamming into the concrete rail of a Land of Canaan bridge, a former Customs Officer succumbed to his injuries.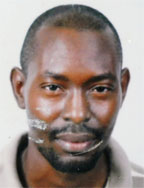 Gerald Scotland, 31, of South Ruimveldt Park died during the wee hours of yesterday at the Georgetown Public Hospital (GPH). He was first taken to the Diamond Diagnostic Centre (DDC) and then transferred to GPH.
In a press release yesterday afternoon police said they are investigating the accident which occurred at about 11.40 pm on Monday on the Land of Canaan Public Road, East Bank Demerara. Investiga-tions, they said, revealed that Scotland was driving motor car PLL 1424 when he lost control of the vehicle and crashed into the concrete rail.
It is a wonder, a coconut vendor said, that Scotland managed to survive the impact even for a few hours. On her way to work yesterday morning, she recalled, she saw the vehicle which was still at the scene.
"If you see how the whole front of this car… just smash in," the woman said.
A man, who declined to have his name published, said that he rushed Scotland to the DDC on Monday night. Some men, he said, discovered Scotland in the wrecked car and it was they who sought his aid to take the man to the nearest hospital.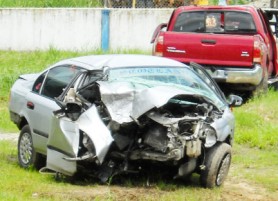 "I did it because I thought immediately that it was a chance I had to save someone's life…he was going in and out of consciousness when I first got him from the scene," the man recalled, "and by the time we got to the Diamond Hospital appeared to be stronger but then he suddenly lift up his arm and started screaming in pain."
He further reported that he'd been told by persons in the vicinity at the time of the incident that Scotland had been speeding north along the western carriageway and then he suddenly swerved and slammed right into the front of the concrete rail on the eastern side of the road.
"The guys were saying that it's a really good thing there was no oncoming traffic or else he woulda cause a major slam up and more people coulda suffer," the man added.
As this newspaper spoke with the man a short distance from the bridge Scotland's wife, his mother-in-law and another relative arrived there to look over the scene.
"We're now trying to figure out what really happened," Scotland's wife told Stabroek News. "The police haven't been able to tell us much and we're now headed to the station."
Earlier, when Stabroek News visited the Timehri Police Station the badly damaged vehicle could be seen in the compound. However, there was minimal damage to the bridge's rail; a small crack could be seen if it was closely inspected.
Around the Web