A 42-year-old man had angioplasty performed on him at the Caribbean Heart Institute (CHI) on Tuesday via his wrist after a blockage in an artery in the heart was discovered.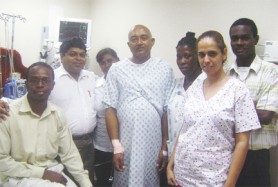 Motilall Satnarine of 51 Bella Street, Pouderoyen, was discharged a few hours later following his operation. He had told this newspaper that he was feeling well and added that he will now pay more attention to his health.
According to Satnarine, he was experiencing terrible chest pains for nearly two months and after consulting a few doctors, he was referred to the CHI where he subsequently underwent the operation.
According to resident interventional cardiologist Dr Pratik Soni, the operation done was radial angioplasty. This he explained is where an incision is made in the wrist and a wire is led through the radial artery to the heart where it dilates a balloon allowing for the insertion of a stent. The stenting being done here is referred to as bare metal stenting and involves the insertion of a wire mesh tube during angioplasty to prop open an artery.
Doctor Soni further explained that this form of angioplasty is one of the safest and saves the patients time and money because they are discharged some six to eight hours after the operation when compared to the other forms of angioplasty.
The doctor noted that persons are suffering from coronary problems from a younger age. Foods that contain hydrogenated oil he said were mainly the culprit and stressed that eating habits in the country needed to be changed.
Located in the Georgetown Public Hospital compound, CHI introduced stenting in Guyana back in 2007 when three angioplasties were performed.
In February Justice For All Party leader, CN Sharma had undergone angioplasty after complaints of feeling unwell. Reports were his procedure was the first of its type ever done in the country because he had a second stent inserted.
Meanwhile, Dr Soni assured that the treatment was 100% effective but pointed out that there was a 2% chance of an unblocked artery becoming blocked again. Dr Soni has been practising cardiology for the past 13 years and is currently a Senior Consultant on interventional cardiology. He joined CHI last year.
Around the Web