A showroom which depicts a replica of a fully completed wooden home, inclusive of stylish windows, doors and ceiling, was commissioned on Tuesday by Minister of Agriculture Robert Persaud at the Guyana Furniture Manu-facturing at Beterverwagting, East Coast Demerara.
According to a Govern-ment Information Agency (GINA) press release Minister Persaud, who also holds responsibility for forestry, pointed out that the commissioning not only portrays the administration's commitment to value-added products  but it is also in sync with the country's Low Carbon Develop-ment Strategy (LCDS).
Persaud said that the showroom would ensure that Guyanese are aware of options and possibilities that are available using the country's forest products.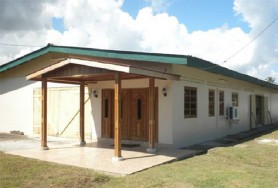 He congratulated the company's management for the US$5M investment and noted that GFM which boasts one of the largest kiln-drying facilities in the Caribbean will aid in the delivery of quality products to benefit consumers at large.
"We need to move away from those difficulties that are oftentimes faced. Our forestry sector is far too advanced for us to compromise on quality. We have to move in terms of utilising the technologies so when consumers purchase they can be assured of quality," Persaud is quoted by GINA as saying.
Regarding the increased demand for forest products, the agriculture minister credited it to government's housing drive and the excellent work being done in this regard, the release said.
Although exports are an essential component, the proprietors were also encouraged to make available affordable and quality wood products to also supply the local market. Minister Persaud assured that government will continue to support investments.
Persaud also expressed the hope that the company would  start utilizing the concession it was given because the government did not only tell companies to go ahead and make furniture but it also provided them with concessions where they can extract what they need and not be dependent on others.
In the meantime, government is currently establishing three kiln-drying facilities, working with wood producers countrywide.
The release said further that Chairman of GFM Mohabir Singh assured that the facility will be a major supplier to one of the country's largest drivers of its economy, the housing sector.
The company has also been investing in a number of secondary processing facilities.
According to the chairman, the company's vision over the next five years is to invest in new facilities to further expand their processing line. As such, he encouraged that, "We should treat our timber as gold, since it has enormous return benefits."
After the formal launch, Minister Persaud accompanied by the company's chairman; Head of Finance Edward Goberdhan; Production Manager and Managing Director Satesh Singh and Dinesh Singh respectively toured the facility, the release added.
Around the Web