"There is no justice in this country," a discouraged Victorine Ifill said on Thursday last after days of running to the police to enquire about her ex-husband who is accused of setting fire to her house over a year ago.
Stanley Griffith also called Denis Griffith was in hiding for over a year since allegedly setting fire to Ifill's Sophia home in September 2009. Police managed to apprehend him earlier this month, but they released him on bail saying that further advice was needed.
Ifill refers to her situation as typical and depressing, saying that she remains the victim of an unresponsive system. She has made public appeals before and lamented the police approach to her case, but according to her "no one is listening".
Ifill recalled rushing down to the station at Turkeyen after learning the man was arrested, but was met with the news that certain
documents were incomplete in the file. She said the police told her a fresh statement was needed from one of the witnesses.
"I have no idea what is happening with this case, I am not getting any information from the police. Imagine all this time and no wanted bulletin was ever put out for this man," Ifill said. She went as far as to seek an audience with Home Affairs Minister Clement Rohee, who met with her in October and promised to look into her case.
Ifill questioned how a man who was on the run for over a year could be released on bail after a few days. She is also troubled by recent reports that the man has since fled the country.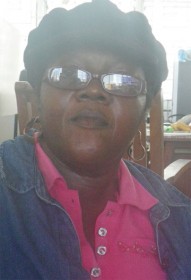 "Why not contact me and say certain documents are
incomplete? Tell me about the witness because I know where to find her. I cannot believe that they had this man in their hands and then let him go like that," Ifill said.
She said she was prepared to face her ex-husband in court after receiving the news that he had been detained, but would have to wait much longer now. She argued that the system continues to deny her justice. "I believe they want to sweep this one under the carpet," she added.
On September 11 last year Ifill's Sophia two-storey concrete house was totally destroyed. The man had allegedly kicked down the door to the house and set it on fire, using cooking gas and kerosene. In a matter of minutes, the house and all of Ifill's possessions were gone. Only her dogs and few of the chickens she reared, most of which were stolen by unkind neighbours, were saved from the fire.
Ifill and her son Ron Lamaison were left homeless, as well as the man's daughter who lived in the house. Ifill said she worked for years and had saved up to build the home; at one time she was working three jobs in Antigua.
Around the Web