A new coffee shop on Church Street is promising quality service and excellent prices, as it opens its doors tomorrow.
The Coffee Bean cafe and eatery owned by Narvini Dewnath-Omar and Hank Omar and family is offering coffee lovers hot and cold lattés, cappuccinos, teas, local and imported juices, Italian sodas, a variety of pastries and breakfast and lunch.
According to Hank Omar, the family always wanted to operate its own business. After intense discussions it was decided that a coffee shop would be the right investment. He said his family does a lot of travelling and visiting coffee shops were always on the agenda. Hank expressed the hope that the business will benefit "the country and tourists" alike.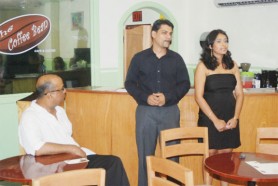 The establishment was declared open yesterday by Tourism Minister Manniram Prashad who wished the owners success in their business and told them that "there is a need for this shop". "This Coffee Bean Shop will be a success," he declared.
The Omars said they have invested over $3 million in the business and plan to expand once business is good. The Coffee Bean is located at 133 Church Street in the Jai Narine Singh Building opening hours are from Mondays to Saturdays 7.30 am to 6 pm.
Around the Web