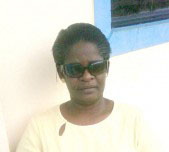 Former police ser-geant Treveloin Burrowes is of the firm belief that persons with disabilities can have fulfilling lives. Visually impaired, Burrowes refuses to let her disability prevent her from living life to the fullest.
The 57-year-old of Nabac-lis, East Coast Demerara, served the Guyana Police Force for some 33 years before retiring. Burrowes said she was about 22 years old when she enlisted, "That was way back in '75. Actually I rather be a teacher than a police but you get a penny more in the force," she explained.
The financial inducement was an important consideration, since she came from a poor family and was the third of nine siblings. But Burrowes took to the job and worked her way through the ranks to become a sergeant. "I worked at Headquarters and at Immigration for about 20 years, and then Force Control and then is when I got blind."
Sitting at the door of the Golden Grove Community Rehabilitation Centre (CBR) enjoying the cool mid-afternoon breeze on Wednesday, Burrowes recalled the night she woke up blind and how with the help of a visibly impaired woman she came to terms with her disability.
It was in April four years ago, she said, the day before her daughter's birthday. Burrowes had returned from work and after doing her chores at home retired to bed. She had promised her daughter that she would go to town with her in the morning to buy her a present.
"In the night I get up, maybe about midnight, to use the washroom and realise I can't see anything. It was a frightening something. You hear nothing, nothing you can't see," Burrowes related.
She said she had to feel her way around her room, and felt panic at not being able to see. In the morning, she went with her sister to the hospital. "It was paining to cry," she remembered.
Burrowes was diagnosed with glaucoma and later she said she was told that it was cataract. "Doctor say is pressure build up in the eye and that cause the pain. There was fluid in the eye they say it would drain from ya eye back into ya body but there was some blockage in my eye," she explained.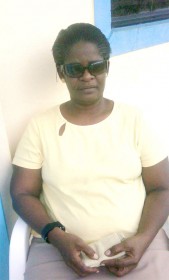 She pointed out that prior to going blind she was experiencing eye pain, and when she visited the doctor she was given eye drops to use. She had put down her eye problems to "getting on in age."
Burrowes, who is a mother of two, said she worried over the fate of her son who was 17 years old at time and still in school. Her daughter was 20.
"But fortunately you know I had relatives to back me… they were there to back me. Sometimes three times in the week I had to go to the doctor and that was taxi you had to take because I couldn't take the sun to go out on the road and stand up. My sister was there all the way," Burrowes said. Her younger sister, Lorraine, especially was always there with her: "She would go every day with me to the doctor whenever I had to go; even though she was working she would try."
She noted that the support of her siblings was very important: "It's a good support to have your brother and sister there… you feel so good. I feel good. I feel wanted."
Although most of her siblings live outside Guyana, Burrowes recalled how they all got together for a reunion after she lost her sight. One of her sisters even tried to get her to the States so that doctors there could examine her eyes. "I'm still hoping that I can go and have them look at my eye," she said.
But it was another visually impaired woman who was instrumental in helping her to adjust to a life without her sight. Explaining how she met Savatrie, Burrowes said, "A friend who knew me put me on to a friend who was blind."
Savatrie would call her and they would have lengthy conversations: "She even teach me how to remember her phone number and use the phone." Burrowes said that she loved soup and with Savatrie's help she learnt how to work the stove so that she could cook her soup.
"She even tell me how to fry fish," Burrowes recalled; "I say man, I can't see how I gun know? But she say you does listen to the oil and when the [sizzle] gone down is time to turn it… When you have somebody like you that pass through what you going thorough it does really help."
Now, Burrowes not only cooks her own food, she bakes bread and does household chores on her own. "Only the other day I sit down with a basin and wash some clothes," she said. However, she has stopped knitting, something she used to enjoy when she had her sight.
Burrowes said that Savatrie was always encouraging her to try things and not be "shut in." It was also Savatrie, who was a member of the East Bank CBR, that encouraged her to join. Burrowes  has now been part of the group for two years.  Persons with various disabilities meet every Tuesday at the centre where they engage in activities such as making envelopes, masonry, sewing and other crafts.
'Good days'
It was at Immigration where Burrowes was in charge of the Records Department before she lost her sight, that she recalled some of the most memorable periods of her working life.
"Those were good days. At least I enjoy those days," Burrowes said, with a smile on her lips. She recounted how she was nicknamed 'Labour Day' by her department.
"I like work so much," she chuckled. She recalled hearing one of her workers saying "that lady could wuk you to a stump," which made her laugh out loud. Burrowes remembered how she would "laugh and talk" with her staff, but "I tell them respect me."
Burrowes said she liked organising and would always be seeking ways to improve her staff's performance, whether by rearranging the office or having lunches with them. Boosting morale was important, if one wanted to get work done, she said. "They never understood why I do these things. I'd come to work and say I had a brain wave last night we gun switch up things. I switch so I can get the best out of them. Sometimes we would sub our money and pay a lady fuh cook we lunch and we would sit like a family and talk about what bothering you and eat and drink and have a nice time."
Retired now, Burrowes received a medal for her long service and dedicated work.
While she admitted that there were still some hurdles she had to cross, she held fast to her faith and hoped for the day that persons with disabilities would be treated like everyone else: "We are still human beings; we have our life to live."
Persons with disabilities should be respected, she said, since "sickness tends to happen to anyone."
Around the Web