By Marlon Munroe
Former British, Commonwealth and European middleweight boxing champion, Howard 'The Battersea Bomber' Eastman was further remanded to prison last Friday after the prosecutor requested more time to prepare a case.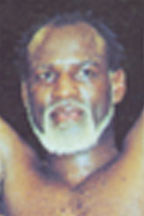 Eastman will return to the New Amsterdam Magistrate's Court on May 14 when his trial is expected to begin.
The 40-year-old boxer appeared in court before Magistarte Adela Nagamootoo on April 12 on drug related charges and was remanded to prison after denying the allegation.
According to reports, police were acting on information when they went to Eastman's home at Canefield Settlement, East Canje, Berbice where they reportedly found a black plastic bag that contained leaves, seeds and stems of the prohibited  cannabis sativa plant.
At Friday's hearing, Eastman's lawyer, Joel Edmond, made a bail application on the grounds that his client's constitutional rights were being breached by not granting him a trial within a reasonable time.
Contacted yesterday Edmond told Stabroek Sport that he submitted a bail application also because he contended that four other occupants were at Eastman's home, his reputed wife included, when police swooped down on the premises. The others were subsequently released which prompted Edmond to claim that the police usurped the function of the magistrate and therefore that amounted to special circumstances for the application of bail.
Further, Edmond claimed that the prosecution was unable to produce any material evidence or any witnesses for the case to proceed.
Edmond yesterday told Stabroek Sport that he will be moving to the High Court to seek bail for his client.
Around the Web