Coca-Cola and Banks DIH yesterday declared their sponsorship of the Central American and Caribbean (CAC) Rugby Sevens Games and North American and Caribbean Rugby Association (NACRA) Rugby Sevens Championships which will be held at the National Stadium, Providence from July 24-30.
The announcement was made in the Sales Conference Room of Banks DIH, Thirst Park, by Chairman of the CAC and NACRA organizing committee and President of the Guyana Rugby Football Union (GRFU) Kit Nascimento. And present were Banks DIH Sales and Marketing Executive Carlton Joao, GRFU officials, organizing committee members, and members of the national male and female rugby squads.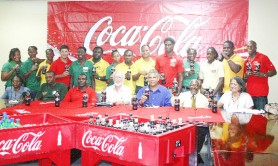 Banks DIH will provide and cover the cost of catering for the event through OMG catering, beverages, including ice and water, and the company will be showcasing their Coke Zero and Sprite Zero brands. The company will also be hosting the awards dinner at the end of the tournaments.
It was disclosed by Joao at the media briefing that the decision to come on board as a sponsor was contemplated months ago when his company was approached by the local organizing committee and the GRFU.
Joao explained that because of the magnitude of the upcoming tournaments, confirmation of their sponsorship was only given after "considering their [Banks DIH] returns and several meetings."
He emphasized that even so, the company was enthusiastic to come on board and add impetus to the already commendable efforts being made by the organizing committee in putting things in place for the country's inaugural hosting of the CAC Rugby Games.
"They [organizing committee] are bringing rugby up to a standard not seen before," Joao said as he highlighted the excellent condition of the playing surface at the stadium and the accommodation facilities. "This is an opportunity to showcase Guyana and promote Banks and Coca Cola… Rugby will be showcased at its best," Joao said.
He also observed that "it's not an easy undertaking because it is actually three tournaments being contested, but it's a significant undertaking."
The significance and enormity of the tournament was emphasized by Nascimento prior to Joao's comments as he noted the number of 'firsts' with Guyana  hosting  the CAC rugby games.
Nascimento observed that this is the first time rugby will be played in competition at the stadium, the first time a CAC game will be contested in Guyana and the Caribbean, and the first time rugby will be played in a competition that falls under the Olympic umbrella.
"We want to win the first ever gold medal for rugby at the CAC Games," Nascimento declared. The national men and women rugby teams are the defending Caribbean champions and they will also be looking to successfully defend that championship this year. According to Nascimento, with the cost of hosting the Games being approximately US$50,000, it would not have been a possibility without sponsors, especially Banks and Coca-Cola.
Around the Web