By Floyd Christie
The 'Elite 24' of the recently concluded National Schools Basketball Festival (NSBF) further developed their basketball repertoire with some fundamental skills training during a coaching clinic held yesterday at the Cliff Anderson Sports Hall.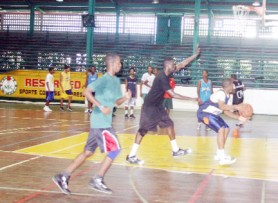 The clinic, which began yesterday, is now in its third year according to organiser and coordinator of the NSBF Chris Bowman.
It will run for three days, ending on the Thursday.
Spearheading the clinic is Samuel Grannum, who resides in the United States and is currently here as part of his Church's missions group in Guyana. Grannum plays professional league for the Philadelphia Fusion basketball team in the American Basketball Association (AMA). He also played College basketball for West Chester University, in Pennsylvania.
At yesterday's session, which according to Grannum was a "very fiery effort" from the players he focused on situational basketball, encouraged the players to be "self driven and self motivated" and strive to constantly improve there game. He also lamented on the importance of education and urged them to balance the two as they go forward in the sport.
The clinic which was introduced by Bowman three years ago is more extensive this year as they will be paying more focus on different skill areas, like shooting and dribbling.
Both organiser and coach indicated that they saw a lot of improvement in players from last year's clinic and Grannum further added that he was happy to "notice bigger players."
However, Grannum made mention that the players "need to work on left hand and shooting form" and this will be done throughout the remainder of the clinic.
Around the Web