The Guyana Olympic Association (GOA)/Olympic Solidarity annual Sports Administrators course for the year 2010 got underway on Thursday at Olympic House on High Street.
The course, which is aimed at preparing individuals for the management of sports associations and clubs, continued yesterday and will run for the remainder of the week from 9am-5pm each day until Sunday.
Some of the speakers addressing the 20-25 attendees of the course so far are Vice Presidents of the GOA Noel Adonis and Karen Pilgrim and Charles Corbin, Secretary General of the GOA Ivor O'Brien, President of the Guyana Rugby Football Union Kit Nascimento and Chairman of the Guyana Elections Commission Steve Surujbally. Among the topics discussed yesterday were the challenges facing sport in developing countries, which was addressed by GOA course director Claude Blackmore.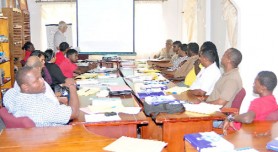 The topic is geared at equipping the participants with solutions to the basic challenges facing sport in developing countries such as Guyana, in an effort to raise the bar of sport administration.
A number of ideas were thrown out to participants based on their level within the administration of their respective association or federation.
The topic also allowed for an assessment of the role of governments in sport development. It was widely determined that government plays a pivotal role in the development of sport as they are required to provide necessary sport facilities and objective conditions whereby the  federations can develop the sport environment.
In addition, a comparison was done between developed countries and developing countries.
According to what was discussed by Blackmore, there are some main differences between what transpires in developed countries and sports in Guyana. In developed countries, "money is ploughed into sport, there's a supportive commercial sector, the sport operates like a business and there is all round development of sports persons."
However, in countries such as Guyana and other developing countries the opposite most often occurs. Additionally, in developing countries, there is generally a lack of human, social and financial resources relating to the sports discipline.
At the close of Blackmore's discourse some simple solutions were proposed as the way forward.
According to Blackmore the development of partnerships between various sports associations within the country will enable the sharing of ideas and facilities and forming sporting ties with developed countries can lead to athletes participating in those countries to further their development.
Around the Web