CENTURION, South Africa, (Reuters) – India will be  under pressure to justify their number one ranking by winning  away from home when they play second-placed South Africa in a  three-match test series starting at Centurion today.
India have not lost a home series since going down 2-1 to  Australia in 2004, but their away form has been less impressive  and South Africa captain Graeme Smith said they were under  pressure to show they could win in foreign conditions. India  have won just one of 12 tests in South Africa.
"If you are the number one side, then you need to perform  consistently around the world, like Australia did when they beat  teams in their own backyards. The pressure is on India to show  that they can hack it over here," Smith told a news conference yesterday.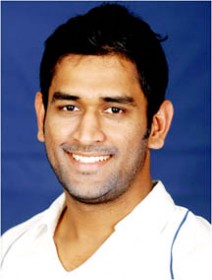 Overcast and rainy weather should suit South Africa's fast  bowlers even more and India's batsmen face a stern trial by  pace, bounce, seam and swing on a pitch totally unlike the  surfaces they are used to at home.
"The conditions will be very different, it's not the normal  turning tracks we are used to. But it is an opportunity to prove  ourselves, to go to the next level. That's the challenge and we  must not think about the adverse conditions too much," India  captain Mahendra Singh Dhoni said.

TOP BOWLER
India are pondering the fitness of left-arm seamer Zaheer  Khan, whose absence would be a severe blow in their bid to match  a South African attack spearheaded by top-ranked test bowler  Dale Steyn.
Zaheer, who has a hamstring strain, would be replaced by  uncapped left-armer Jaidev Unadkat or Umesh Yadav, and Dhoni  suggested his strike bowler would not be risked with the World  Cup only two months away.
"Zaheer is doubtful and we will make a call on the morning  of the game," Dhoni said. "He has been our best bowler, he has  led our attack in whatever conditions, so it is a blow.
"But we need to see the bigger picture, we have to think  about the World Cup too, it is so close and a major injury to  one of our best XI will put us in trouble. If we are not 100%  sure he is fit, we will not risk him," Dhoni said.
Smith, who broke his hand in the test series against  Pakistan in the United Arab Emirates last month, will take his  place at the top of the South African order.
"I made a much quicker recovery than expected and I'm really  excited to come through because this is going to be a big series  to be part of," Smith said.
"We've flitted between number one and number two in the  rankings over the last couple of years, so this is a really  exciting opportunity for us.
"We pride ourselves on performing in these big series,  there's a lot of quality on both sides and even on the field,  it's exciting to be part of it," Smith added.
Probable teams:– South Africa – Graeme Smith, Alviro Petersen, Hashim Amla,  Jacques Kallis, AB de Villiers, Ashwell Prince, Mark Boucher,  Ryan McLaren or Lonwabo Tsotsobe, Dale Steyn, Morne Morkel, Paul  Harris.

India – Gautam Gambhir, Virender Sehwag, Rahul Dravid,  Sachin Tendulkar, Vangipurappu Laxman, Suresh Raina, Mahendra  Singh Dhoni, Harbhajan Singh, Zaheer Khan or Jaidev Unadkat,  Shanthakumaran Sreesanth, Ishant Sharma.
Around the Web