Carifta Games gold medalist Britany van Lange finished second in her heat of the women's 200m freestyle event at the FINA (World Swimming Federation) World Championships (25m) yesterday.
Van Lange's performance, brought to an end Guyana's participation at the event which also ended yesterday in Dubai, United Arab Emirates.
Swimming out of lane three of the second of 10 heats, van Lange ended her participation at the games on a good note as she produced another personal best time for the event.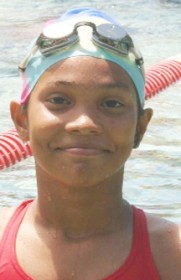 She finished the race in 2:15.77s, defeated only by the 2:15.29s clocked by Fijian Tieri Erasito.
She finished with an overall ranking of 64.
Van Lange and Ronaldo Rodrigues were Guyana's representatives at the event.
Both junior swimmers participated in a total of 15 events at the championships.
Neither van Lange nor Rodrigues qualified for the final of any of the events that they participated in, as only the persons with the top eight best times advanced.
However both produced a number of personal best times particularly Rodrigues, who recorded PBs in all of the events that he participated in.
Rodrigues participated  in the 50m, 100m and 200m freestyle, 50m, 100m and 200m breaststroke, 100m individual medley and the 50m butterfly events, while van Lange participated in the 50m, 100m, 200m and 400m freestyle, 100m individual medley and the 50m backstroke and butterfly events.
The duo was chaperoned at the event by swimming coach Joanne Lowe.
Around the Web