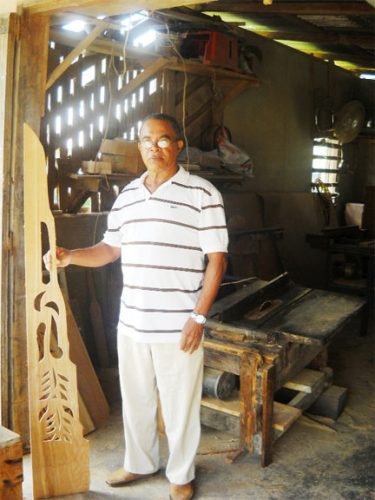 Located at 72 John Street and Stone Avenue, Campbellville, is Major's Woodworking, a little workshop that specialises in the making of wooden shutters.
Courtney Wishart called 'Major,' 65, owner and manufacturer of those shutters said he has been making wooden shutters for about 10 years, but that there are not a lot of people who still make them or even use them.
Wishart said he learnt woodworking and window-making from his father in his teen years, but did not follow in his father's footsteps until some years later.
He said he first tried his hand at vulcanising and diving before he eventually took over the job his father had once taught him.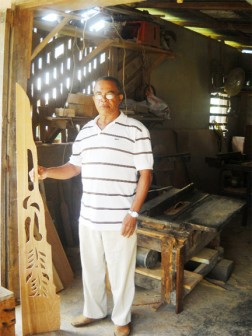 "I love it," says Wishart about what he does; "I love the putting together things with wood and so on."
According to Wishart working with wood allows him to be more creative and appreciative of the finished product. "I think you can get better results, be more creative with wood," he said when he compared his current job with his previous work.
But, making windows is a job that requires "patience," he said, "and we must ensure that we have the right materials."
To construct durable window shutters, it is best to use silverballi or determa wood. Both woods have a life-span of some 25 years once painted and cared for, Wishart explained, and further, determa wood is termite resistant, although there is some difficulty in getting it.
He said that the business has it's "up and down." On days when he has nothing to build or make, he services his machines. For days when he has bulk orders to complete, Wishart said he employs a few extra hands. Usually his brother would assist with the normal work.
Major's Woodworking is open every day of the week. Wishart explained that he keeps the workshop open in the event that someone would have some little job that he can help them with.
Apart from making shutters, Wishart also makes fretwork, or what is also now called scrolls, fancy wood-cuts and cupboard doors, as well as hollow-block moulds. Some of his most notable work includes the shutters he made for Cara Lodge and the Georgetown Club he said.
Comments
Since the festival of Christmas commands a pre-eminent position – of observance and celebration – on Guyana's Annual Calendar of National Events, I thought I'd pen a few lines to provoke thought and meditation relevant to the "Real Reason for the Season".

To mark the anniversary of Martin Carter's passing on December 13, 1997, Gemma Robinson looks at Carter's Poems of Succession, published 40 years ago this year.
By Naicelis Rozema-Elkins It is about time, past due in fact, that the problem of sexual assault by teachers in our school system is addressed.

Focus on Guyana's National Budget 2018 represents the twenty-eighth edition of this Ram & McRae annual publication which highlights, reviews and comments on the major issues surrounding and raised in the National Budget.

By Mark Leonard LONDON – Over the last few weeks, media around the world have been saturated with stories about how technology is destroying politics.