Nigel Glen, the nurse who was involved in a vehicular accident at the corner of Camp and Lamaha streets on Saturday afternoon, succumbed to his injuries later that evening.
Reports are that the young man died while receiving treatment at the Georgetown Public Hospital (GPH) for head and neck injuries which he sustained during the accident. According to a relative, Glen was riding his motorcycle west along Lamaha Street when he collided with the motor car bearing registration, PLL 9996, which was heading north along Camp Street around 5 pm on Saturday.
The driver of the car, according to the relative, had jumped the major road and Glen subsequently collided with the right side of her car. She sustained minor injuries and along with Glen, was taken to the GPH for treatment.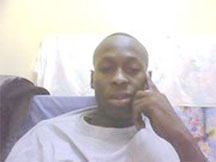 The young man lived originally at Linden but moved to the city this year. His mother Muriel Glen told Stabroek News from her home at One Mile, Linden yesterday, that she was made aware of the incident late on Saturday evening. She said that relatives and her son's colleagues were initially reluctant to inform her of her son's demise.
She said that the second of her three children had been a nurse for some four years and on January 31st, he moved to the Kitty area where he stayed with an uncle. She said that her son was reading for a degree in nursing at the University of Guyana's, Turkeyen Campus and experienced difficulty travelling to and from Linden to attend classes.
She said "I was never too happy with him riding because he use to ride to classes from Linden and he had it hard". She noted that her son sought a transfer and he subsequently moved to the city. Glen was well-known at Linden and relatives and friends yesterday expressed shock at the tragedy.
The driver of the car is in police custody assisting with investigations.
There have been several road accidents since the year began and the police traffic department has been urging motorists to exercise caution when driving along the roads.
On January 1 this year, Mark Seecharan, 30, was killed after he was struck down by a motor car while he cycled along the Good Hope, East Coast Demerara (ECD) Public Road with his wife in tow. His wife survived the accident while the driver of the car is currently before the courts.
On February 1st, two persons died following separate road accidents at Victoria on the ECD and at Sarah Johanna on the East Bank of Demerara. Andrew Hanover, 45, of  Victoria, ECD was  struck down by a motor car as he walked along the public road close to his home while Vishan Seeram, 20, died after the driver of a minibus he was travelling in lost control of the vehicle and it subsequently slammed into a utility pole at Sarah Johanna.
On February 6, Jermaine Frank, 21, and Raymond Ally, 26, of Friendship, EBD, died after the car they were in plunged into a trench near the Houston/Meadow Bank turn near Banks DIH. Ally, a popular race car driver, was said to be racing at the time with the occupants of another car when the incident occurred.
One day later, popular South Road mechanic Errol Gonsalves passed away after he collided with a minibus, while riding along the public road at Farm, East Bank Demerara (EBD).
On February 8, 23-year old Doodnauth Persaud of La Bonne Intention (LBI) who was hospitalized following a vehicular accident the weekend before succumbed to his injuries.
And on Wednesday evening, 15-year old Danielstown, Essequibo Coast teenager, Manlik Mathews was pronounced dead on arrival at the Suddie Hospital following a hit and run accident close to his home.
Mathews, a pedal cyclist, was rushed to the Suddie Hospital along with his friend who he was towing, following the incident. The duo, along with their friends, was returning home from the annual Mashramani celebrations when they were struck down by a speeding motorcar.
The driver of the car was later apprehended by the police and he is expected to be charged shortly.
Around the Web