Youths cleaning a trench alongside the Eccles Industrial Site road yesterday morning stumbled upon the decomposing body of a Bagotstown resident.
Dead is Ubert Howard, called 'Uncle Mice,' who was last seen on Friday when he told relatives he was heading to Providence to look after his pension book. He was found about a two-minute walk from where he lived.
According to police sources, there were no visible marks of violence on the man's body but they are awaiting the results of a post-mortem examination scheduled for today to determine if foul play was involved.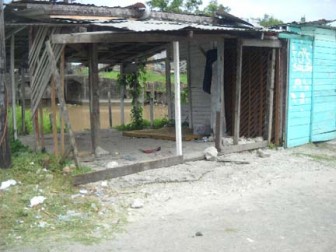 Stabroek News was told that the bloated body was found around 9:30 am floating in the trench amidst thick weeds. Police were immediately informed and the body was later taken to the Lyken's Funeral Home in the city.
Howard called an open shed at Fisheries Street, in Bagotstown his home. There, he had a small mattress and a plastic bag with his clothing. He was described as "own way" by relatives yesterday. He had been that way for many years, they said, while adding that he would sometimes seek lodging at cousins and nieces living in the Bagotstown area.
His niece, Ingrid Bryan told Stabroek News that she identified the body after she was informed of the discovery. While the body was badly-decomposed and unrecognisable, she identified him by his clothing.
Bryan recalled that that Howard left the area last Friday, saying that he was going to Providence to look after his pension book. Other relatives said that it was unusual for him to be missing and according to one woman, she enquired about his whereabouts last Saturday but no one recalled seeing him.
Relatives opined that Howard was in the trench for several days. They were puzzled as to how he ended up in there, with one relative pointing out that Howard was very afraid of water. "He [was] not a feeble man. He [was] a strong man," a relative said. Howard did odd jobs around the area for a living.
Around the Web