Businessman Christopher Ramsarran, 23, who died on Thursday evening after the motorcycle he was riding crashed into a pick-up the Triumph Public Road, East Coast Demerara (ECD), had been speeding, according to police.
Ramsarran, of Lusignan, ECD, was riding his CBR motorcycle along the roadway and was attempting to overtake the pick-up when he crashed into the back of the vehicle. The man, who would have celebrated his 24th birthday next week, was wearing a helmet at the time of the accident, this newspaper was told.
According the police, the accident occurred around 6.30 pm on Thursday afternoon on the Triumph Public Road. The police said investigations revealed that Ramsarran was riding his motorcycle at a fast rate along the public road when he lost control and crashed into the motor pick-up bearing the licence plate GMM 3673, which was proceeding in the opposite direction. He was pronounced dead on arrival at a private hospital in the city, the police stated.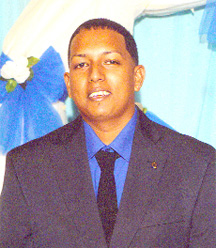 According to the dead man's wife, Nadia Ramsarran, her husband left his home during the day on Thursday to meet a friend in Georgetown and he was returning home when the accident occurred.
"My husband called me on my phone at around 5:25 pm [and told me] 'honey I coming home now'". She said that after she spoke to her husband she and their two-year-old son were waiting to greet him when she received a call from a friend stating that her husband had been involved in an accident. "When he friend call me, I tell he that it is not true because I just talk to my husband," she said.
Ramsarran said she subsequently made several attempts to contact her husband on his cell phone but was not successful. She said that she later called a relative who told her that her husband was at the hospital. The distraught woman said "right way I knew something was wrong; I knew something bad had happened to my husband".
She rushed down to the private hospital in the city where she was told that her husband was dead. "When I reached there I saw my husband covered up in a white sheet, and my son asked me 'Mama, what happen to daddy? Is daddy sleeping?'."
When Stabroek News visited the dead man's residence, relatives were traumatized. One relative described Ramsarran as a very hard working and loving individual. "We never had no problem with Christopher. You can ask anybody in this area and they would tell you what a nice person he was," his mother-in-law said.
The man's wife said they are awaiting the results of a post-mortem examination. She also said that the family is awaiting word from the police on their investigations into the matter.
The driver of the pick-up is in police custody assisting with the investigations.
Around the Web