Sixty-eight students graduated on Wednesday having completed their Hinterland Scholarship, during which they spent between one and six years at various institutions, pursuing secondary, tertiary and technical education.
A graduation ceremony was held at the Sophia Exhibition Complex, but only the students in Region 4 were present.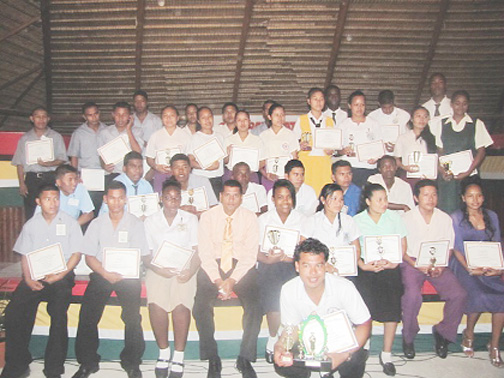 Also graduating, were eight students who attend the Guyana Industrial Training Centre and will be completing their courses in December 2011.
Students who gained 470 to 479 marks at the National Grade Six Assessment in 2010 were granted regional scholarships to attend schools in their regions and those with 480 and above were given national scholarships to attend secondary schools in Georgetown.
Among the top hinterland achievers for the 2010/2011 academic year were Shane Hendricks and Hilton Reuben of President's College, who both averaged over 80 per cent each term. Lisa Thakurdin and Ashalisa Insanally, of Anna Regina Multilateral, were consistent in their academic performance, averaging more than 90 per cent.
Liaison Officer to the Ministry of Amerindian Affairs Norman Whittaker said the Hinterland Scholarship Programme is a commendable initiative, which demonstrates the government's contribution to society. Reiterating the government's commitment to ensuring that every child receives an education, Whittaker stated "We educate you not only for today but for tomorrow, having regard also to government's determination to ensure that there is equity and in terms of access to quality education irrespective of ethnicity, geographical location, cost and culture."
He stated that the construction of the recently-commissioned dormitory at Liliendaal for the Hinterland Scholarship Students and several newly-built schools are testimony to these improvements.
"We have moved from the stage where less that 40 per cent of hinterland students could have accessed primary education to 100 per cent now having access," Whittaker stated, adding "We will continue to enhance our education system so that not only you but, your brothers and sisters can benefit from a more modernised education system, offering new learning opportunities."
Whittaker further commended parents of the graduates for what he described as the "best investment" by sending their children out to gain an education.
During the graduation exercise, songs and poems were presented by continuing students before certificates and prizes were distributed to the graduates.
The graduating class was also afforded the opportunity to share with their friends and families the memorable moments during their time spent at the various schools and institutions.
Around the Web