A popular upper East Coast Demerara businessman was yesterday morning found dead in his bed, leaving relatives and friends in shock.
Dead is Leonard Lamazon, 47, of Lot 12 Non Pariel Railway Embankment. There were no signs of forced entry to his home or marks of violence on his body but police are awaiting the results of a post-mortem examination (PME) to rule out foul play.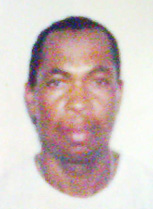 Lamazon owned and operated a snackette and bar at his home and was preparing for a barbecue and lime today at the location.
It was an employee, Oretta, who discovered his lifeless body some time after 8 am yesterday. The woman told Stabroek News that when she turned up for work, she rang Lamazon's phone but got no response, which she found strange. She said she also hit the padlock against the gate and still got no response. She then decided to jump over the fence, went to his home, which is attached to the shop, and knocked on the door.
After still not receiving any response, Oretta said, she peeped through a window and saw Lamazon lying on his bed motionless. She said she immediately raised an alarm and neighbours came rushing over. They broke down the door and found him dead.
Oretta recalled that she saw Lamazon, with whom she had been working for over five years, around 4 pm on Thursday and he appeared well. She said that she heard from him some time before midnight. He had called to ensure that she was well.
Lamazon, she said, had moved to the location from Bachelor's Adventure, where he also had a business, about two months ago.
Meanwhile, his daughter Leneva said that her father celebrated his birthday on Wednesday and he took food for her two children.
She said her father was not ill and she was clueless as to what might have caused his death. She said that even though the death did not look suspicious, the police informed her that a PME still had to be performed.
When this newspaper arrived at the home, relatives and friends were gathered. The man's mother could be heard weeping uncontrollably.
Lamazon also leaves to mourn his wife Coletta and a son, who both reside in the United States.
Around the Web