The Guyana Defence Force (GDF) and the Brazilian Army yesterday signed a Protocol that covers assistance in the areas of training, doctrine and operations, intelligence, logistics engineering and international affairs at the conclusion of the VI Bilateral Staff Conference at the Pegasus Hotel.
According to a statement by the GDF, the Protocol provides training courses for GDF personnel over the period 2012 to 2014 in the fields of infantry, para-trooping, logistics, and engineering, while the cooperation in doctrine and operations will see, among other things, the linking of training institutions for the sharing of knowledge and experiences.  Colonel Robert Mitchell Jungle and Amphibious Training School is currently benefitting from the attachment of Brazilian instructors. GDF engineers will also benefit from attachments to Brazilian engineering units.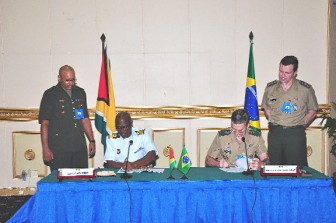 The release said that in 2012, the two forces will re-establish the biannual intelligence conferences, with that conference being held in Brasilia.
In the area of logistics cooperation, the Brazilian Army will be providing military materiel to the GDF as well as facilitating contacts with Brazilian firms for the GDF to enter into equipment acquisition from them.  Additionally, there will be meetings of military doctors to exchange information and best practices on tropical diseases.
The cooperation in international affairs will see a continuation of the biannual bilateral staff conferences and the annual regional meetings between the two Forces, the participation of free fall parachutist teams of both forces at military ceremonies in the respective countries, and the possibility of GDF engineers and infantry ranks being attached to Brazilian units engaged in peacekeeping missions.
The next Bilateral Staff Conference is slated to be held in Brasilia in 2013.
Around the Web