A fire, believed to be electrical in origin, gutted a house at Stewart Path, Wismar, Linden early yesterday morning, leaving one man seeking a place to rest his head.
Daniel Crandon, the caretaker of the house, was at his business place at Mackenzie when he was informed of the fire. By the time he returned home, the entire wooden structure was engulfed by flames.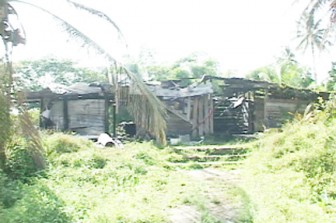 The fire started shortly after 4am. Nothing was saved despite the quick response of neighbours and the fire service.
A neighbour said that she and a member of her family were having a snack at home, having returned there sometime after 3am, when they heard their dog barking unusually and persistently.
They thought that something was amiss and decided to investigate. It was then they noticed the thick smoke and fire at the back of their neighbour's yard.
"…When I looked out of the door, I saw some sparks at the post—the wires were sparking and so on—and then I saw smoke going up at the back of the Johnson's house and I heard a neighbour shout 'fire,' Alicia Jerrick recounted.
"But I know it could not be someone burning a heap, [and] so when we get out of the gate we saw the house behind the Johnson's burning," she added.
Neighbours were instructed to take off the main switches in their homes, as the power supply to the area became irregular, causing light-bulbs to pop and appliances to short-out.
The fire service, which was summoned, responded promptly, while neighbours formed a bucket brigade. However, the efforts were in vain.
Crandon was unable to estimate his losses but was sure that he had a number of valuables which he would be unable to regain anytime soon, since he is a man of little means.
The owner of the property resides in Montserrat.
Around the Web