A mother of four, who said that she could have been killed on Thursday night, continues to live in constant fear while charging that the police remain reluctant to heed her cries for safety.
A visibly-distressed Roberta Lewis told Stabroek News yesterday that she is scared for her life as a man with whom she once shared a relationship is determined to end it.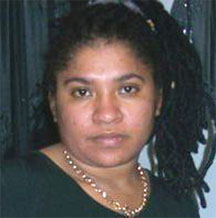 Between sobs, Lewis said that she doesn't want to end up as another statistic on the list of domestic violence victims and as result decided to let her story be publicly known. She added that she felt she had no choice, since the police continue to drag their feet on her complainants.
According to Lewis she was at her 121 Thomas Street Kitty residence preparing to go to bed on Thursday morning at approximately 1am when she was alerted by a loud revving sound in front her house. Upon investigating, the 33-year-old woman said that she saw her reputed husband standing in front of her premises. After pulling her curtains, she said that the man raised a gun in the direction of her bedroom window.
Lewis said that being afraid for her life she quickly fell to the floor and crept to her children's room for safety. Moments later, she said she heard two gunshots. Sometime after this shooting incident, Lewis said she was able to confirm form neighbours, who know the man, that it was him who had discharged the rounds.
Lewis told this newspaper that she has had problems in the past with the 20-year-old man and as a result decided to sever the relationship she shared with him. She said that she was granted a protection order by the court with regards to the man, but it has been violated. She added too that they once had a matter before the court, for which he was placed on a bond to keep the peace, after she decided against proceeding with the case against him, resulting in its dismissal.
New matters are, however, before the courts, including one in which the man has been charged for unlawfully wounding Lewis.
She said she tried to explain to the magistrate who heard the man's case on Tuesday that she is living and fear and he had threatened to kill her. The woman, however, said that the magistrate told her that she was not dealing with any allegation about threats made to her life. Lewis said that she was subsequently rightfully advised that the magistrate can only make pronouncements regarding cases before her.
'He will kill me if he gets the chance'
Lewis explained that she wanted to tell the magistrate about the threats, since the man had told her in front of police at the Kitty Police Station that he would murder her; an act she stressed he is capable of doing.
"I believe if she [the presiding Magistrate] had given me a listening ear, he would have been remanded to prison on the unlawful wounding charge," she said.
The man has since been admitted to bail for the wounding charge; a decision that has made Lewis even more uncomfortable and afraid for the safety of her and her children. She said that she knew that once the man was admitted to bail he would go after her.
Lewis further went on to say, "as if that wasn't enough, he was again released by investigators yesterday after being called in for questioning into the shooting incident."
"How can they release him when I'm trying to tell them that he is pursuing me to kill me?" she questioned. "I know this man, he will kill me if he gets the chance to," she stressed.
Overcome by tears, Lewis said that she feels even worse about the situation, since it seems she is "all alone in this" as the police and other organisations with the ability to give her a listening ear continues to push her around.
She said that after the shooting incident, she called 911 but her call went unanswered. Subsequently, she said she was able to summon a party of police men from the Kitty Police Station who arrived sometime later.
Clearly reluctant to assist her, she said the lawmen just came and "stand up looking around." She said that two other officers arrived later and promised to return during the day to conduct investigations but they never did.
Lewis said that the lawmen are not treating her case with any urgency or importance and have constantly been telling her that she is lying.
"I am frustrated and decided to take my story public as no one is helping me. Should anything happen to me after now, people must know and my children must feel satisfied that at least I tried to seek help," she said tearfully.
According to Lewis she has since visited the Ministry of Human Services, the Police Complaints Authority, CID Headquarters Eve Leary, the Brickdam Police Station and the Kitty Police Station.
She however explained that the visits to theses various places have been in futility as they are only "pushing me around." She said that one organisation keeps sending her to the other.
"I am not sure about my next step." she said sadly. "Suppose I don't live to see another day what will happen to my children?"
Around the Web