The Region Six blood bank located in the northern end of  the New Amsterdam Hospital  Complex was on Wednesday commissioned by Minister of Health Dr Leslie Ramsammy who noted that there will be a problem unless persons come forward and voluntarily donate.
The East Berbice/Corentyne blood bank had been in operation since July 2010 and it got off to a positive start achieving  863 units, surpassing  the Ministry of Health's target that year.
For the current year, 702 units of the targeted 1,000 units  have already been achieved.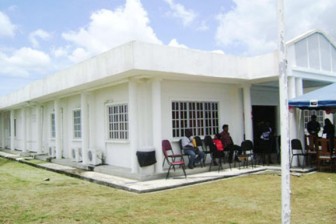 Addressing the gathering during a midday ceremony attended by various categories of health workers, the  Minister of  Health pointed out that, "There isn't a single country in the developing world  where they are meeting the demands. It's a truth we do not talk about it.  What we have as a nation is not insufficient blood but we are without enough donors."
The minister explained that the Ministry of Health cannot buy blood  and recalled that twenty years ago persons suffering with diabetes  who were in need of insulin had to  personally purchase the drug, but now it's accessible  through the health ministry.
However, unlike insulin, blood cannot be bought  even if the budget is tripled, "we will not be able to  solve the problem unless persons come forward and voluntarily donate blood. That is our challenge."
In  a personal plea to the gathering to join in being blood donors, Dr. Ramsammy said, "If you live long enough you will need blood. Some of you are lucky that while you were young you did not need it. But  despite our age we may need blood. When you donate you do not know whose life you may save, as health care is available to anyone domiciled in Guyana and if you need blood you can receive blood from the same pool without any payment."
Earlier, Chief Executive Officer of the Berbice Regional Health Authority (BRHA) Dr Vishwa Mahadeo issued certificates  to two faith-based organizations, the Overwinnning Open Bible Church and the Number 64 Village Mandir,  for  their excellent  support and contribution  to health care delivery in Region Six.  The CEO also issued a  call to other  organizations to come on board in an effort to surpass the targeted 12,000 units set by BRHA for 2011.
The new complex houses an operational foot care centre which is to be commissioned soon,  along with  facilities for  Voluntary Counseling and Testing and Visual Inspection with Acetic Acid (VIA)  and a small laboratory.
Among others attending the commissioning were  Regional Education Officer  Shafiran Bhajan who represented  Regional Chairman Zulficar Mustapha who at the time was attending a meeting with the families of the  missing fishermen, Chairman of the BRHA Board David Armogan, who urged agencies to mobilize and educate persons to become blood donors, along with  Candy Archer, acting Blood Bank recruiter.
Following the symbolic cutting of the ribbon, First Vice President of New Amsterdam Lions Club Samuel Singh led  the Lions contingent  in  donating blood.
Around the Web