Four vehicles were involved in two accidents at the junction of Thomas Lands and J.B. Singh Road, at Kitty, yesterday.
Eyewitnesses Marquis Bishop and Juanita Khan alleged that  Sueswattie Ramdeen, who was the driver of the car PEE 7529, was travelling westward on Dowding Street and jumped the traffic light at the corner of Station Street and Vlissengen Road. At the same time, Sherry Ann Yahya driver of PHH269, travelling northward on J.B Singh Road, collided with her, causing a smash-up.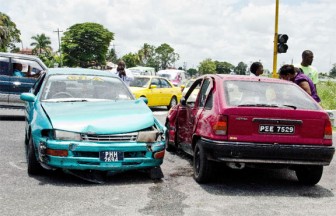 The elderly Ramdeen, visibly shaken, was seen clutching her heart. She complained of chest pains and quickly summoned her nephew, who rushed her to the St Joseph Mercy Hospital. Yahya and a passenger, Shamain Liverpool, were on their way to Mon Repos to conduct business for Liverpool's boss. She lamented that the owner of the car was very reluctant to lend her his vehicle and because of the accident she felt responsible. Her passenger complained of head and body pains and they both stated that they would visit the city hospital for a medical check.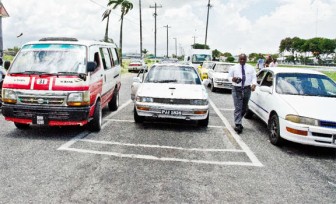 An already bad situation got worse when a bus travelling on Thomas Lands slammed into the door of a car whose driver had stopped to view the prior accident. No one was hurt in that accident.
Around the Web