The body of a young fisherman was yesterday morning discovered near a sluice at the Paradise Village Seawall, Essequibo Coast sea shore with suspected marks of violence.
Dead is 21-year-old Rajhu Persaud a/k Kishan of Jib Housing Scheme also on the Essequibo Coast.
Police said in a press release yesterday that they are investigating the circumstances surrounding the death of Persaud whose body was found around 07:00 hrs. Investigators are awaiting the results of a post-mortem examination.
Persaud's younger brother, Bisham, told Stabroek News at their home yesterday that his elder brother had just slipped a movie into the DVD player when he suddenly got up and left without saying anything. This was around 17:30 hrs, Bisham recalled adding that Persaud never returned.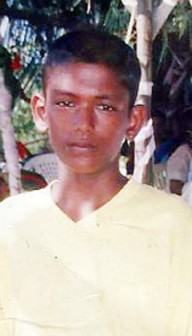 Persaud's body, this newspaper was told by discovered around 06:00 hours by cattle owner Talesh a/k "T" (only name given), who had gone to the seashore to tend to his animals that were grazing there. While in the process of tending to the animals he spotted the body and immediately raised an alarm.
Stabroek News was reliably informed that Persaud was found lying on his belly and there were bruises on his face.
According to Bisham, his brother who had been a fisherman for the past six years was making preparations to travel into the Atlantic Ocean to catch fish. He was scheduled to leave yesterday.
"This is a shock to we, because he already get he things together to go, now this happen," the grieving man said.
As news of the discovery quickly spread, scores of residence rushed to the scene to get a glimpse of the body. Residents said they were clueless as to what might have caused the death of the young man.
Police arrived at the scene shortly after the matter was reported. The body was later taken to the Suddie Funeral Parlour.
Persaud has left to mourn his father Garynauth, mom Babita and two siblings.
Around the Web